France to Build Ice-Class Research Vessel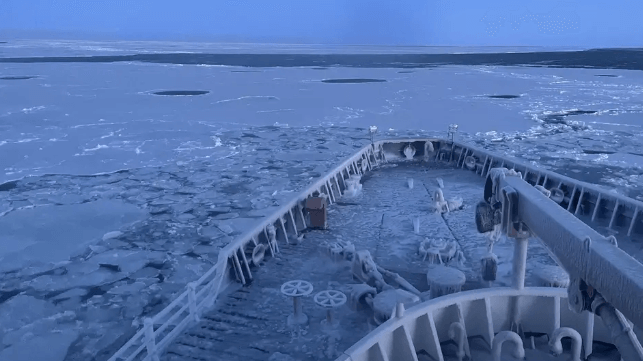 Almost a year after France launched its polar strategy for 2030, the French President Emmanuel Macron last Friday revealed the country would build an ice-class research vessel as part of its billion-euro plan to bolster polar research. Macron was speaking at the One Planet-Polar Summit held last week in Paris. As an initiative of the French government, it was the first international summit for glaciers and poles and brought together researchers and leaders from over forty glacial and polar regions.
However, Russia, a major Arctic nation was not invited to the conference over its ongoing war in Ukraine.
Macron's rallying point was the climate emergency facing the planet's cryosphere, which he termed as a civilizational challenge. Macron called for "unprecedented level of cooperation" among world leaders despite the resurgence of geopolitical tensions.
"The war in Ukraine has weakened cooperation with major geopolitical and scientific powers. Despite these tensions, it's clear that we must act, and make the poles and glaciers privileged spaces for peace, scientific and environmental cooperation," said Macron.
At the event, Macron also announced that France would invest $1.1 billion in polar research. Partly, this will be utilized in acquiring a new ice-class vessel for polar expeditions. The vessel will be named Michel Rocard, the former Prime Minister of France and later French Ambassador in charge of international negotiations on the Arctic and Antarctic Poles. Rocard died in 2016.
The vessel will be based mainly in the French overseas territory of New Caledonia in the South Pacific, and will divide its missions to both serve the Western Pacific and Antarctica.
In its 2030 Polar Strategy, France highlighted lack of research vessels as a great hindrance to French scientists doing international research in the polar regions. Initially, France had indicated it would weigh the options of constructing a new ice-class vessel, renovate an old patrol boat or use fleets of other international partners.
Additionally, the Polar Strategy had called for revamping of the French Polar Institute to handle expanded missions. To this effect, Macron pledged to rebuild the Dumont d'Urville station in the Antarctica from 2026. The other Antarctic station, Concordia, operated jointly by France and Italy, will also be renovated.
Meanwhile, France is planning two major initiatives in the North and South Poles. This includes committing some finances for the Polar Pod expedition led by the French explorer Jean- Louis Etienne. The Polar Pod is a uniquely designed vertical-vessel, which will be sailing in the Antarctic Sea assisted by the ocean currents. Its goal is to explore the Southern Ocean, acquiring data and long-term observations that will be transmitted to researchers in 43 scientific institutions from 12 countries, who are involved in the project.