Four Sri Lankan Stowaways Caught Dressed as Crew on CMA CGM Boxship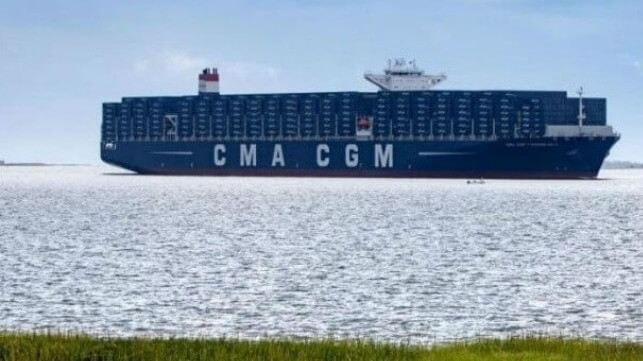 Four Sri Lankan men are now in custody after they were sent home after stowing away on a containership. Details of the situation are still under investigation by the authorities in Sri Lanka as they are also looking for accomplices at the port in Colombo. It appears it was an organized effort as opposed to initial reports that four youths had been found aboard the ship.
The men ranging in age from 25 to 32 boarded the CMA CGM Panama, a 157,000 dwt containership registered in Malta while it was in the port of Colombo, Sri Lanka on March 24. The vessel was loading containers loaded with clothing manufactured in Sri Lanka as part of its route which takes the vessel from Asia through the Suez Canal with a stop in Tunisia before proceeding across the Atlantic to Canada and the United States. It is unclear if they thought there were on a vessel bound for Europe or if they knew the destination.
According to the media reports the vessel, which has a capacity of 14,855 TEU, departed Colombo on March 25. While it is a large vessel, 1,200 feet in length, the media reports are suggesting that the four stowaways went undetected for at least a week. The vessel traveled approximately 7,300 nautical miles.
The CMA CGM Panama stopped at the southern entrance to the Suez Canal on April 1 and reports said that the vessel underwent a mandatory security check. It was there that the captain reportedly discovered the four individuals. At the time they were found, the reports said they were dressed like crewmembers of the containership.
The captain reported the discovery of the four individuals and consulted with the shipping company. Instead of detaining them in Egypt, the decision was to move them to another vessel, the Jackson Bay (50,600 dwt), which was southbound at the Suez Canal and heading for Malaysia. Some reports said the smaller container ship (4,250 TEU) was also being operated by CMA CGM, but it does not show on the company's current schedule and databases reflect that it is managed by Eastern Pacific. The four individuals were detained in a cabin during the voyage back across the Indian Ocean.
Sri Lankan police tendered out to the containership when it was passing by as it was not scheduled to make a port call. They were taken to the southern port city of Galle where the four men appeared before a magistrate on April 11. They were ordered held over until April 18 while the investigation is ongoing.
The authorities want to know how the men were able to enter the port and board the vessel. They are also investigating how they were able to obtain clothing to dress like the crewmembers of the containership.