Four Philippine Coast Guard Servicemembers Disappear on Rescue Mission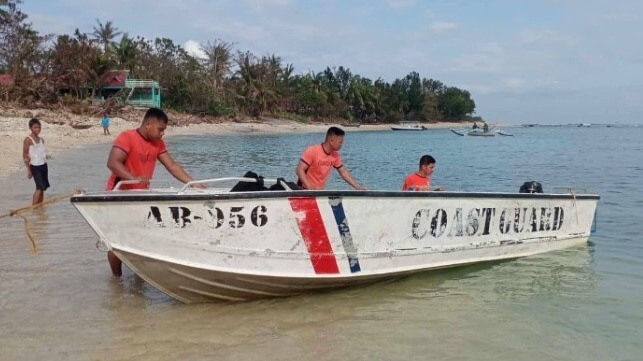 The Philippine Coast Guard continues to count the toll from Typhoon Doksuri, and the tally may include some of its own. Four PCG servicemembers who were dispatched to save the crew of a tugboat on the north shore of Luzon have not returned, and their aluminum launch was found Sunday, floating at a position dozens of miles to the north.
The incident began on July 26 during the passage of Typhoon Doksuri. The tug Iroquois was located off Aparri, on Luzon's north shore, but was driven by wind and waves onto a shoal at the mouth of the Cagayan River. The captain wanted to abandon ship and called for the Philippine Coast Guard's assistance in getting his crew to shore. The conditions on scene were severe, but the PCG decided to launch a four-man crew in an aluminum boat to assist.
While in transit to the tug, the PCG rescue boat capsized, and the crew has been missing ever since. An attempt was made to search for them the following day, but had to be called off due to continuing rough weather.
On Sunday, the boat was spotted about seven miles off Balatubat, Calaguin Island. The vessel Eagle Ferry spotted the capsized boat and notified the Philippine Coast Guard. An extensive search effort is under way with aerial and surface assets, according to the PCG.
Meanwhile, on July 27, the tug Iroquois refloated in strong currents and drifted out into the Luzon Strait. It eventually ran aground a second time on the shores of Camiguin Island in Calayan, off the north shore of Luzon. The Philippine Coast Guard has delivered the grounded tug about 1,000 gallons of diesel and provided assistance to the crew.