Four More Sailors Punished Over U.S. Navy Destroyer Collisions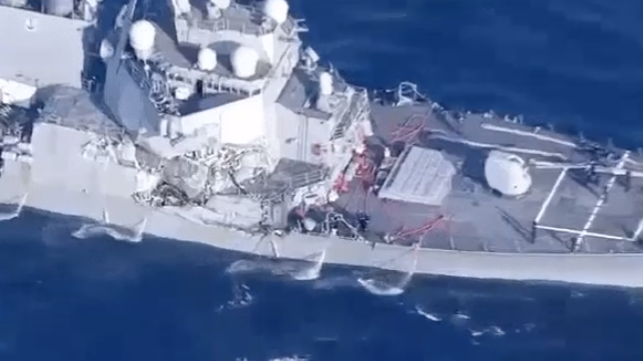 The U.S. Navy has announced administrative penalties for four more sailors over the collisions involving the destroyers USS Fitzgerald and USS John S. McCain last year. The service says that 17 individuals have now been tried under the nonjudicial punishment process in connection with the two deadly accidents.
In a series of hearings on January 25 at 7th Fleet's base at Yokosuka, Japan, Adm. James F. "Frank" Caldwell issued guilty verdicts for the Fitzgerald's executive officer, one additional officer and her command master chief on charges of dereliction in performance of duties. He also issued a guilty verdict for one sailor from the McCain on the same charge. All were given a formal letter of reprimand, a penalty that often blocks further promotion and can lead to separation from the service. Caldwell also reversed an earlier nonjudicial punishment verdict against one officer from the USS Fitzgerald.
Adm. Caldwell is the Director of Naval Reactors, a post far removed from 7th Fleet's day-to-day operations, and he was appointed by Chief of Naval Operations Adm. John Richardson to lead an independent inquiry in the wake of the collisions. Caldwell's investigation recently concluded, and while its full results have not been released, the Navy has announced a series of criminal proceedings, nonjuidicial punishments and forced retirements resulting from his efforts.
Under the uniform code of military justice, former Fitzgerald commander Cmdr. Bryce Benson and former McCain commander Cmdr. Jessie L. Sanchez face charges of hazarding a vessel, dereliction of duty and negligent homicide, according to the Navy. The two men were relieved of their commands shortly after the collisions involving each vessel last year, and they will face an Article 32 Uniform Code of Military Justice hearing this spring. Two lieutenants and one lieutenant junior grade from the Fitzgerald will face the same charges, and one Fitzgerald chief petty officer faces charges of dereliction of duty.
In addition, U.S. naval surface forces chief Vice Adm. Tom Rowden agreed to accelerate his previously-announced departure. He was set to retire Friday, but he gave up his post early to allow his successor to begin the transition. His sooner-than-expected resignation was said to be directly related to Adm. Caldwell's recommendations.