Four Injured in Crane Maintenance Incident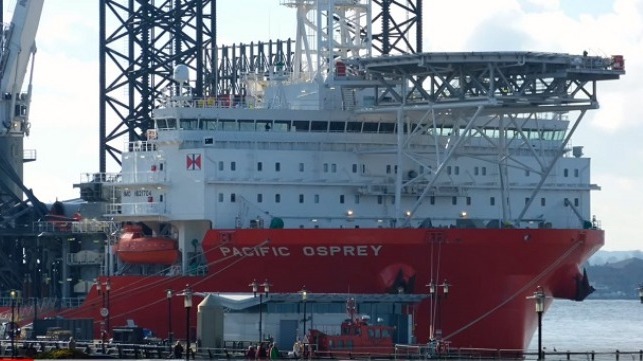 Four of the crew on board windfarm installation vessel Pacific Osprey were injured when the box section of the crane boom collapsed onto the deck adjacent to the bridge on Thursday. The vessel was berthed alongside in Eemshaven, Holland, at the time.
Swire Blue Ocean reports that one of the crew sustained a serious injury during the incident but has now been discharged from Intensive Care. Three other crewmembers suffered minor injuries.
The company issued a statement saying: "The incident occurred when the vessel was jacked up at the quayside and the only material damage caused was to the vessel. The crane was undergoing maintenance at the time of the incident and the vessel has suffered significant damage as a result. There were no injuries to any third party personnel nor any damage to the port infrastructure."
Pacific Osprey was built in 2012 and is installed with a 1,425 ton operating crane capacity. She has been working on the Hohe See project and, at the time of the incident, had three monopiles and three transition pieces on deck.
Mikkel Gleerup, CEO of Swire Blue Ocean, said "The safety and well-being of our people is always our first priority. All support and resources have been mobilized to assist those affected and we will continue to support them and their families through this challenging time. Our team will maintain close management of the incident and has initiated a full and thorough investigation in cooperation with the local authorities."