Four Cruise Ship Orders for Fincantieri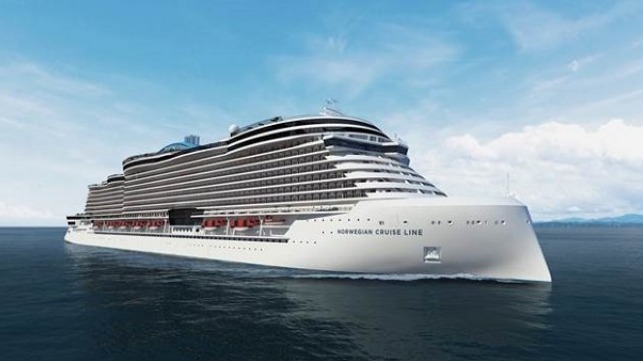 Last week, Fincantieri received four new cruise ship orders: two for Norwegian Cruise Line (NCL) and two for TUI Cruises.
NCL Orders
NCL confirmed its previously announced options for the fifth and sixth Project Leonardo Class ships with Fincantieri on Thursday. The vessels are scheduled for delivery in 2026 and 2027.
At 140,000 gross tons and accommodating approximately 3,300 guests, this next generation class of ships will build on the most recent Breakaway Plus Class ships. A priority of the prototype design is energy efficiency, with the aim of optimizing fuel consumption and reducing the impact on the environment. The smaller footprint will also broaden deployment opportunities around the world, said NCL in a statement.
"These orders extend our disciplined and measured newbuild program and strong growth trajectory well into the future and will further drive long-term returns for our shareholders," said Frank Del Rio, president and CEO of Norwegian Cruise Line Holdings. "Our six-ship Leonardo Class fleet will allow us to broaden our deployment into strong performing and mature unserved and underserved markets and offer new experiences to our guests."
With this announcement, Norwegian Cruise Line Holdings has seven ships on order for Norwegian Cruise Line and one for Regent Seven Seas Cruises for a total of eight vessels for delivery through 2027. The company will take delivery of its newest ship, Norwegian Encore, in fall 2019.
TUI Orders
Fincantieri was awarded an order for the construction of two LNG-powered ships from TUI Cruises, a joint venture between TUI AG and Royal Caribbean Cruises on Friday. The new units will be built at the Monfalcone shipyard and delivered in 2024 and in 2026, respectively.
These ships, of about 161,000 gross tons, are based on a prototype project developed by Fincantieri.
"With the new class of ships we are responding to the wishes of our guests and creating offerings that will also inspire new cruise passengers. As with the other ships in the fleet, the passenger/space ratio remains generous," said Wybcke Meier, CEO of TUI Cruises. "The decision to run the two additional low-emission new builds is a logical continuation of our environmental strategy".
These will be the largest ships ever built in Italy. TUI Cruises will be introducing two new ships, in 2019 and 2023.