Foreign Investors Line Up for Vietnam's Offshore Wind Boom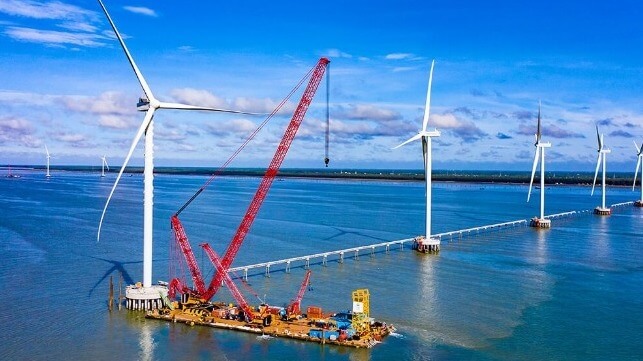 Two years after Vietnam committed to a net zero emissions future, the country's offshore wind sector is increasingly gaining interest with the investors. Vietnam is already working on a new Power Development Plan (PDP), which will outline the country's energy sector outlook between now and 2030. The emphasis of the plan is a shift away from coal to renewables and gas.
Exploitation of Vietnam's vast offshore wind potential is part of the energy transition, and the plan targets a minimum of 3-5 GW of offshore wind in 2030 and 9-11 GW by 2035.
The leading investors angling for Vietnam's offshore wind energy include Japanese and European corporations. The main draw is Vietnam's enviable natural potential for wind capacity. With a vast coastline of over 1800 miles and winds that average more than 13 knots in some coastal provinces, Vietnam has an offshore wind potential in the range of up to 500 gigawatts.
To put this in context, China - with an installed wind capacity of 232 gigawatts - is currently considered the world leader in the sector, and it accounts for almost a quarter of all installed global wind capacity.
Among the European companies leading in the efforts to enter the Vietnam offshore wind sector is Denmark's energy giant Orsted. As the world's largest offshore wind power company, Orsted has begun partnering with local Vietnamese companies to explore offshore wind projects.
In 2021, Orsted signed a memorandum of understanding (MoU) with the Vietnamese conglomerate T&T to develop a power plant. With T&T already expanding its renewable energy portfolio through investments in LNG and solar energy, a partnership with Orsted would enhance its foray in offshore wind. Orsted and T&T jointly plan to establish a power plant with a total output of two gigawatts by 2030. Additionally, in anticipating a booming offshore wind market in Vietnam, Orsted opened an office in Hanoi in 2021.
Norwegian energy company Equinor has also made significant steps to enter Vietnamese offshore wind market. Equinor contributed to the development of the Vietnam Supply Chain Study Report for offshore wind. The research was finalized in October 2021 in partnership with Vietnam's Ministry of Industry and Trade. Last year, Equinor also opened a representative office in Hanoi to coordinate its offshore wind operations in Vietnam.
Meanwhile, Japan's Sumitomo Corp. has recently commenced initial development of an offshore wind power plant at a site in southern Vietnam. Sumitomo has experience in developing offshore wind projects in Belgium, France and the U.K.
The Japanese renewable energy company Renova is also making headways in Vietnam's offshore energy market. Together with the state-owned oil company PetroVietnam Group, Renova signed an MoU on plans to develop a two gigawatt power plant in Vietnam's southwest region.
PetroVietnam is actively involved in nearshore wind projects in the southwest region. It has a long-term contract for provision of support vessels for transportation of personnel and operation & maintenance equipment of wind projects in Tra Vinh and Binh Dai-Ben Tre provinces.