For World Maritime Day, UNCTAD Calls for an Equitable Transition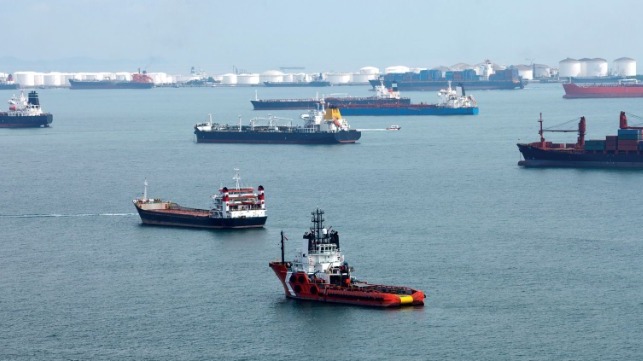 Just in time for World Maritime Day, the UN Conference on Trade and Development (UNCTAD) has released a new call to action for securing a just transition to shipping's decarbonized future, including financial support for vulnerable nations to help make their maritime infrastructure more resilient to climate change.
Shipping's greenhouse gas emissions have risen by 20 percent since 2012, according to UNCTAD. China's meteoric rise accounts for a substantial share: The Chinese-owned fleet has seen its emissions more than double over the past decade, from 44 million tonnes per year to 103 million tonnes per year. The rise may well continue for the near future, as tonne-mile growth is expected to continue at a rate of about two percent per year through 2028.
Reducing emissions while increasing shipping will require the industry to adopt green fuel technology at scale, and to find adequate supplies. The cost will be immense: according to UNCTAD, the industry can expect to pay in the range of $8-28 billion extra per year, which equals about one-fifth of global bunker fuel spending at today's fuel oil price levels.
This is already beginning in Europe with the introduction of the Emissions Trading System (ETS) for vessels. UNCTAD called on regulatory bodies to create global rules for CO2 emissions - in line with the IMO's climate ambitions - and to institute a worldwide bunker levy for shipping. A portion of the proceeds, it suggested, should be used to make shipping infrastructure in vulnerable countries more resilient to climate impacts. The policy framework for maritime decarbonization should also accommodate the needs of climate-vulnerable countries, and developing nations most affected by the high cost of green shipping - like the Small Island Developing States (SIDS) of the Pacific - should get financial and technical support from the rest of the world in order to adapt.
"We need bold global action to decarbonize shipping. To ensure a just and fair transition, we must engage with all stakeholders in the shipping industry. At UNCTAD, we call for a multilateral regulatory framework applicable to all ships, regardless of their flags or ownership," said UNCTAD director Shamika N. Sirimanne. "Let me remind that the cost of inaction is much higher than the investments needed to make the global maritime system more sustainable and just."