Florence's Aftermath Disrupts North Carolina Port Operations
The Ports of Wilmington and Morehead City, North Carolina will keep their truck gate operations closed through Monday, September 24 as the recovery from Hurricane Florence continues. Vessel operations are expected to resume more quickly, and port employees returned to work Thursday.
Trucks could have difficulty reaching the Port of Wilmington even if its gates were open. The North Carolina Department of Transportation said Thursday that about 750 roads remained closed in the state, including sections of I-40 and I-95. Key routes into Wilmington that were opened Tuesday have since been closed again due to flooding, leaving no "safe, reliable way" into the city, NCDOT officials said. To make matters worse, U.S. 17 could close this weekend as floodwaters continue to rise north of the city. The Cape Fear River posted a gauge height of 35 feet at Tar Heel, NC on Thursday, well above the peaks measured during Hurricane Floyd and Hurricane Matthew.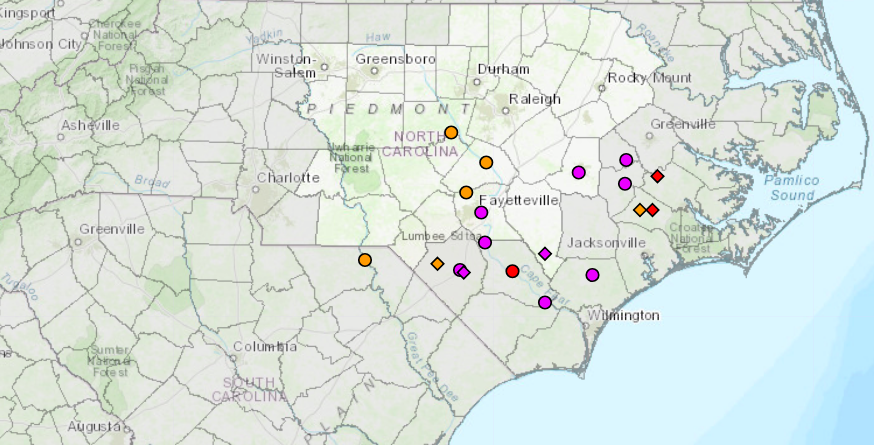 River gauges at flood stage on Thursday. Orange equals minor flooding; red equals moderate flooding; purple equals major flooding (NOAA)
Electricity in Wilmington was restored Tuesday, but the flooding has created problems for a nearby retired power plant, the now-defunt L.V. Sutton Power Station. Over the weekend, a coal ash landfill at the site released 2,000 cubic yards of material; coal ash contains heavy metals, including arsenic and mercury. High waters from the Cape Fear River overtopped a dike at the site on Thursday and flooded a former cooling pond adjacent to three coal ash dumps. At present, operator Duke Energy does not believe that the flooding poses a risk of a further spill.
The National Weather Service confirmed Thursday that the 30 inches of rain that Florence dropped on eastern North Carolina constitutes a "1000-year" event.