Five Missing in Fire Aboard Squid Jigger off Falkland Islands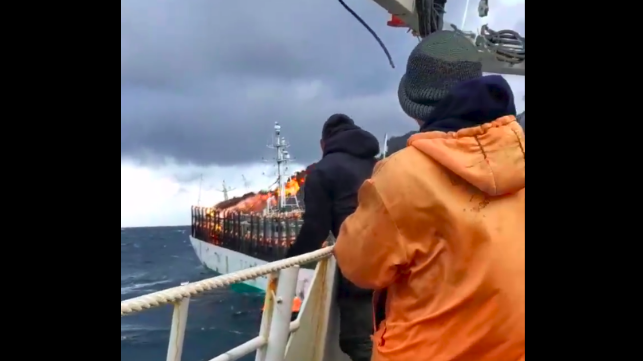 A fire broke out aboard the Taiwanese squid fishing vessel Jun Rong last week off the coast of the Falklands, and five crewmembers are still missing, according to Taiwanese officials.
Video taken by the crew of the good samaritan vessel Zi Da Yi shows a raging fire towards the Jun Rong's stern, and one lift raft deployed amidships. A second video published by Uruguayan media shows the pilothouse in flames as well.
64 out of the 69 crewmembers aboard the Jun Rong have been rescued, but five are still missing. Two government vessels based in the Falklands - the UK fisheries patrol vessel Protegat and the Royal Navy patrol boat HMS Clyde - helped the Zi Da Ye with the evacuation, with communications assistance from Uruguay's maritime rescue coordination center. A second good samaritan vessel, the Lian Rong, brought the survivors to shore at Montevideo, Uruguay, where they were debriefed by authorities and provided with medical care. They are reportedly in good health, with the wounded suffering only minor injuries.
The shipowner is making arrangements to repatriate the crewmembers to their respective countries of origin. According to the Uruguayan Navy, the crew's makeup included 22 Philippine nationals, four Taiwanese, 28 Indonesians, nine Vietnamese, one Burmese national and one Chinese citizen. All of the missing are Philippine citizens, and the Philippine Department of Foreign Affairs has issued a satatement expressing hope for their safe return.
Uruguayan officials believe that an engine room explosion was the primary cause of the fire. The investigation into the circumstances of the casualty continues.