First US Plug-in Hybrid Electric Inland Towing Vessel Christened in Houston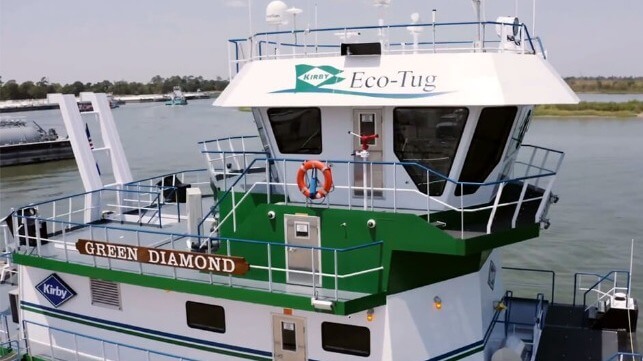 Kirby Inland Marine marked the introduction of its new inland towing vessel which it is highlighting as the first plug-in hybrid electric inland towing vessel in the United States. The vessel is the first of several electric tugs as part of an emerging trend. New Zealand launched its first vessel in 2022 and Canada recently took delivery of its first electric tugs. In the United States, Crowley has been developing an electric tug since 2021 which will be operating in San Diego, California.
The new Green Diamond, a 73-foot inland tug was christened in Houston on August 25 and will be time chartered by Shell Trading (US) Company, which will use the boat to push barges throughout the Houston port region. The Green Diamond was constructed by San Jac Marine, Kirby's shipyard in Channelview, Texas.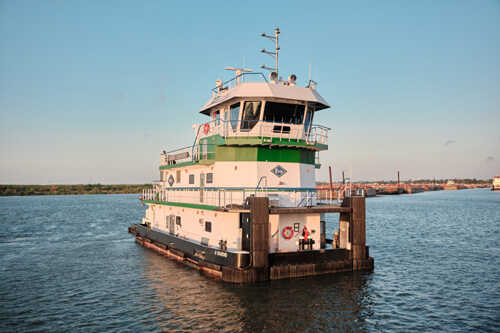 Green Diamond undergoing trials before completion (Kirby)
"We are excited to be the first to market with a plug-in hybrid inland towing vessel," said Christian O'Neil, President of Kirby Inland Marine during last Friday's christening event.
Propulsion for the vessel is provided by two 575 KW Danfoss electric motors that can be driven either by the Corvus Orca series battery system, which provides 1243 KWH of power or, if needed, onboard Caterpillar generators. When the project was announced, Kirby said the vessel would make efficiency gains by having several different operating modes depending on the required load. In addition, they said it would feature a flexible battery design that would allow for adding or removing battery packs based on power needs.
A Shell New Energies US-owned charging system purchased from Zinus will be used for dockside charging of the battery system, allowing the vessel to operate on trips within the Houston area without ever needing to start the generators. It will be possible to use the generators to charge the batteries or the vessel was expected to be able to complete a full charge using shoreside power in six hours.
"The plug-in hybrid design offers numerous advantages for towboats in certain trades," said Mitch Jones, Vice President of San Jac Marine. "We are already looking at building follow-on vessels."
According to Kirby's modeling, when operating onshore supplied power, the fuel use can be reduced by almost 80 percent, resulting in an estimated 88-95 percent reduction in emissions of nitrous oxides, carbon monoxide, and hydrocarbons. Engine run time can be reduced between 93 and 98 percent compared to a conventional inland towing vessel. When in hybrid mode with the generators running, the boat is expected to have an estimated 27 percent reduction in emissions compared to a conventional towing vessel.
The next e-tug project for the United States is Crowley's vessel which is expected to be ready shortly for its entry into service. Construction began at the end of 2021 and recently work began on the charging station for the vessel in San Diego. The tug is designed to operate at full power on batteries alone and will be able to provide up to 70 short tons of bollard pull using a 1,800 kW azimuthing drive propulsion system from ABB and a 6-MWh battery pack. The two pier-side battery banks - built by Corvus Energy - will be housed in modular containers, and each will have a storage capacity of about 1.5 MWh.