Crowley Breaks Ground on Unique e-Tug Charging Station in San Diego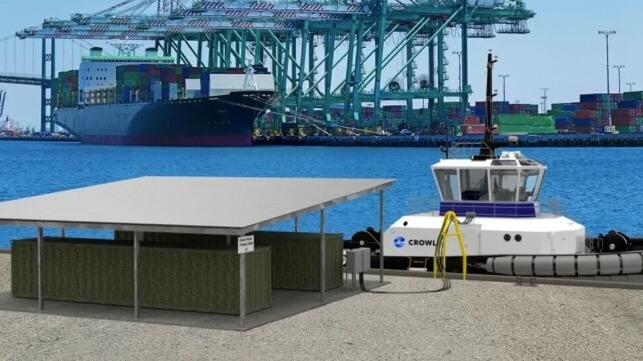 On Wednesday, Crowley broke ground on a new charging station for America's first all-electric tugboat. The future tug eWolf will soon begin serving the San Diego market with emissions-free towing services, and to power up, it will have a one-of-a-kind shoreside battery system all ready to go.
The charging station will be a solar-assisted, battery-enabled microgrid system, and it is a novel solution to the utility grid factors that are common for shore power and port electrification projects. The two shoreside battery banks at this station will charge up from solar panels during the day and the utility grid during the nighttime, when the public demand for power is lower. When the tug pulls alongside to recharge, the batteries on the pier will transfer their accumulated power to the batteries on the tug, like an external battery bank recharging a cell phone.
The two pierside battery banks - built by Corvus Energy - will be housed in modular containers, and each will have storage capacity of about 1.5 MWh. For safety, the installation will be protected by a battery monitoring system, along with fire detection and firefighting technology.
Crowley partnered with the San Diego County Air Pollution Control District, the California Air Resources Board, the Port of San Diego, the U.S. EPA and the U.S Maritime Administration to get the project across the finish line.
"We are proud to share in this moment with the City of San Diego to showcase an industry-first, shoreside charging station at the Port of San Diego," said Matt Jackson, vice president of advanced energy for Crowley. "Building a sustainable, zero-emission port of the future requires pioneering new and innovative technology, as well as a commitment to partnerships."
The Crowley-designed eWolf is under construction at Master Boat Builders of Coden, Alabama. In operation, it will provide up to 70 short tons of bollard pull using a 1,800 kW azimuthing drive propulsion system from ABB and a 6-MWh battery pack. The tug is designed to operate at full power on batteries alone.
"Crowley is on a mission to become the most sustainable and innovative maritime and logistics company in the Americas," said Crowley chairman and CEO Tom Crowley when the project began in 2021. "Working together with our customers, suppliers, policymakers and others across our value chain, we can meet the climate crisis head on."