First LNG Ship-to-Ship Bunkering for Skangas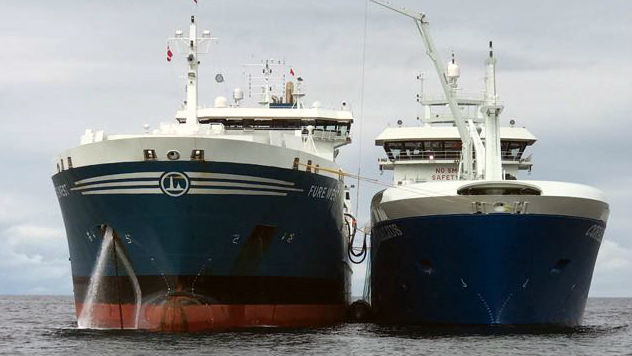 Skangas LNG bunkering vessel Coralius has made her first ship-to-ship delivery. The operation took place in international waters between Frederikshavn, Denmark and Gothenburg, Sweden.
The receiving vessel Fure West is an oil and chemical tanker which operates mainly in the Baltic and Kattegat areas. In 2015, the Furetank Rederi retrofitted the tanker, pioneering the use of LNG as marine fuel in Europe.
Coralius made her maiden voyage delivering LNG to their terminal in Øra, Fredrikstad in Norway on September 14. The vessel was loaded with LNG from Skangas' production facility in Risavika, Stavanger.
The 5,800cbm vessel was built by Royal Bodewes, and Skangas took delivery of her on September 2 from owners Anthony Veder and Sirius Shipping on a long-term charter basis.
In August, Skangas and ESL Shipping entered into an agreement for providing gas fuel to ESL's LNG-powered bulk carrier newbuildings. These two new vessels will start operating during first half of 2018. The new, ice-class 1A ships will be the first LNG-fuelled large bulk carriers in the world and will operate in the Baltic and North Seas. As part of the agreement, Skangas will also deliver ESL Shipping with liquefied biogas (LBG). LBG and LNG are interchangeable as fuel and thus the same LNG supply chain is used.
Last year, Skangas, a subsidiary of Gasum, bunkered a ship, the product tanker Ternsund, for the first time directly from its LNG terminal in Pori, Finland. Ternsund is the first of four new LNG-fueled vessels owned by the shipowner Terntank and operated by the Finnish company North European Oil Trade.
Skangas expects the LNG demand for ships to increase significantly in next few years as shipping companies seek cleaner fuel alternatives. The company estimates that by 2020 there will be nearly 200 vessels worldwide running on LNG.