First F-35 Lightning Jets Land on HMS Queen Elizabeth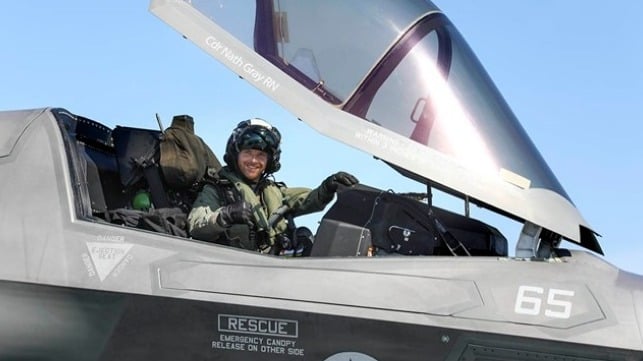 Pilots Royal Navy Commander Nathan Gray and RAF Squadron Leader Andy Edgell have made history by landing their F-35 Lightning stealth jets on the flight deck of Britain's newest carrier, HMS Queen Elizabeth.
The flying operations mark the start of more than 500 take-offs and landings set to take place from the warship over the next 11 weeks. The jets will be tested in a range of sea and weather conditions. Having then completed the trials, which are taking place off the east coast of the U.S., the giant aircraft carrier is expected to visit New York.
Shortly afterwards, Gray became the first pilot to take off using the ship's ski ramp.
HMS Queen Elizabeth is able to embark up to 24 of the supersonic jets. More than 1,400 sailors, flight crew and Royal Marines have been working on board the carrier during her deployment.
The Commanding Officer of HMS Queen Elizabeth, Captain Jerry Kyd, said: "The regeneration of big deck carriers able to operate globally, as we are proving here on this deployment, is a major step forward for the United Kingdom's defense and our ability to match the increasing pace of our adversaries. The first touch-downs of these impressive stealth jets shows how the United Kingdom will continue to be world leaders at sea for generations to come."
HMS Queen Elizabeth left her home port of Portsmouth in August, crossing the Atlantic to conduct the flying trials as well as training with the U.S. Navy. The deployment has also provided an opportunity for the U.K.'s Carrier Strike Group team to train with those on the frigate HMS Monmouth and the U.S. Arleigh Burke-class destroyer the USS Lassen.
Construction work continues on board HMS Prince of Wales, the second aircraft carrier in the class, which nears completion at the Rosyth shipbuilding yard. HMS Queen Elizabeth is on track to deploy on global operations from 2021, and the U.K. has now taken delivery of 16 out of a planned 138 F-35 jets. The two carriers will be used to provide humanitarian assistance and disaster relief and support British armed forces deployed around the world.