Fire Sweeps Through Moored Fishing Boats at Bali Harbor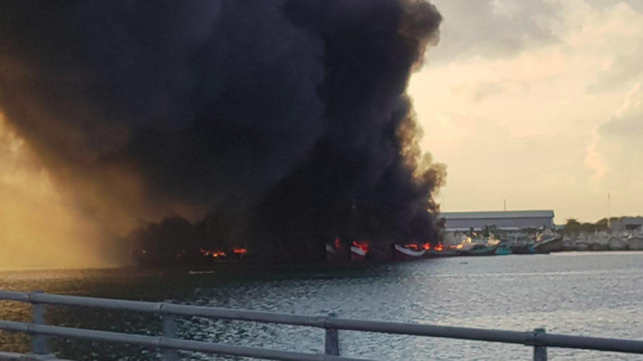 In the early hours of Monday morning, a fire broke out at the small port of Benoa, Bali, and burned through nearly forty moored vessels before it could be brought under control. Firefighters declared success in extinguishing the blaze on Monday afternoon, but one vessel reignited shortly thereafter, and the effort was not completed until Monday night.
Authorities believe that crewmember negligence or an electrical fault aboard one fishing vessel likely led to the fire. However, the police have not yet ruled out arson, according to local media. A full investigation is under way.
39 unit kapal ikan terbakar di Pelabuhan Benoa Bali pada 9/7/2018 pukul 02.00 Wita. Sebanyak 25 unit mobil pemadam kebakaran dikerahkan untuk memadamkan api. Laporan sementara tidak ada korban jiwa. Penyebab kebakaran masih dalam penyelidikan oleh pihak berwenang. pic.twitter.com/oNCNoaODnQ

— Sutopo Purwo Nugroho (@Sutopo_PN) July 9, 2018
The boats were moored closely together, and the fire spread quickly along the row, bystanders reported. Police chief Petrus Golose told journalists that the lack of a fire hydrant at the harbor slowed the response effort. According to Indonesian Disaster Management Agency spokesman Sutopo Purwo Nugroho, about 25 fire engines were deployed to bring the blaze under control. No fatalities or injuries were reported, but Golose estimated that property damages would exceed $8 million.
Port harbormaster Dwi Yanto told Tribun Bali that many of the moored vessels were laid up due to stringent fishing regulations. In addition, many others were idled due to a holiday, leading to an overcrowded harbor. He estimated that only 10 to 15 of the nearly 40 vessels damaged or destroyed were actually active in fishing.