Fire-Damaged Maersk Honam to Berth at Jebel Ali Port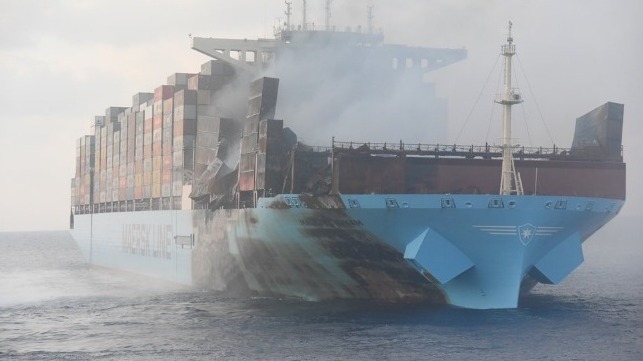 The Maersk Honam, which caught fire on March 6 off the coast of Oman, is finally scheduled to berth and unload at Jebel Ali, UAE. On Tuesday, she will arrive at the pier and 2M partner MSC will begin discharging surviving cargo. The operation is expected to last four to seven days.
MSC and vessel operator Maersk Line have already announced general average for the casualty, which consumed most cargo in the Honam's forward holds and cost five crewmembers their lives. Most cargo aft of the accommodations block is expected to be salvageable, but cargo owners must post general average and salvage security bonds in order to retrieve their goods. Salvors have requested salvage security of 42.5 percent on top of a general average deposit of 11.5 percent.
In addition, MSC is charging affected customers $750 per 20 foot container (or $1250 per 40 foot container) for transshipment, storage and on-carriage costs imposed by the casualty.
"In consideration of the important geographical deviation provoked by the salvage operations and of the consecutive extra handling/storage costs that will accrue at port of refuge, MSC will unfortunately not be in position to carry your cargo to destination without collecting additional charges," the line explained in a statement. "We are profoundly sorry for these additional costs which are imposed on us by the situation."
Cargo owners also have the option of ending their container's voyage at Jebel Ali and transferring its custody to a local representative. In this case, general average and salvage bonds must still be posted before cargo will be released.
The Maersk Honam's return to port has been long in coming. An intense fire broke out in her forward holds on March 6, forcing her crew to abandon ship. SAR efforts continued until March 12, when rescuers found three bodies and determined that the last missing crewmember was likely deceased. On March 22, MSC confirmed that the Honam would seek refuge at the port of Jebel Ali. However, the container ship and her tug escorts remained in the Arabian Sea for weeks as salvors attempted to extinguish the remaining pockets of the fire. She finally arrived at an anchorage off Jebel Ali in late April, but "hot spots" remained until May 15, when MSC announced that firefighting efforts were nearly complete.