Fire Consumes Towboat on Lower Mississippi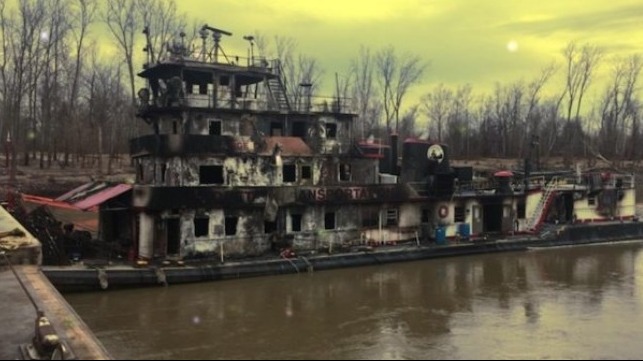 [Brief] The U.S. Coast Guard is investigating an engine room fire that consumed the towboat George King near Vicksburg, Mississippi on Wednesday night.
Coast Guard Sector Lower Mississippi River received notice at 2050 hours on Wednesday that the George King had caught fire. Her nine crewmembers abandoned the towboat by climbing aboard the dry cargo barges she was pushing ahead, and none were injured in the evolution. The C. Michael Reeves, a towboat owned and operated by the same company, was able to push the George King and her barges onto the riverbank.
The fire burned itself out by Thursday morning, and traffic restrictions were lifted by Thursday afternoon.
The George King has an estimated 65,000 gallons of diesel on board, but no pollution has been reported. Contractor United States Environmental Services has deployed anti-pollution boom as a precautionary measure, and the Coast Guard continues to monitor the vessel.