Finland's New FSRU Terminal Gets its First American LNG Cargo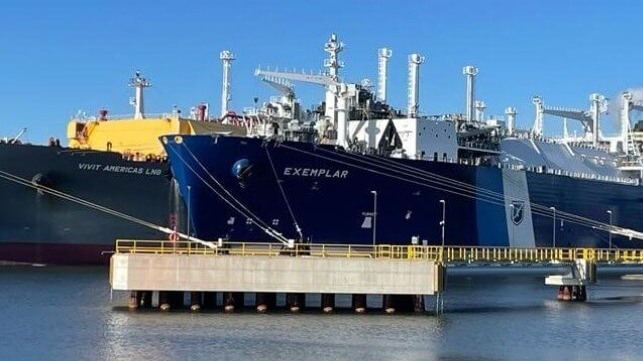 Finnish company Elenger has imported the first cargo of LNG through a new floating storage and regasification unit (FSRU) terminal at the port of Inkoo. The cargo was delivered by Vitol and sourced from Venture Global's LNG plant at Calcasieu Pass, Louisiana.
Whether by design or coincidence, the cargo arrived at a politically symbolic moment: the LNG carrier Vivit Americas pulled into port just before Finland formally entered the NATO alliance. Finland once maintained a careful balance between the West and its powerful Russian neighbor, but its government took a hard turn away from Moscow last year after the invasion of Ukraine. Finland renounced Russian energy supplies, condemned the attack on Ukraine and applied to join the western military alliance. Russia cut off natural gas and electrical power supplies to Finland by May 2022, and FInland began buying American and Norwegian LNG instead.
"Until today we have used the port of Klaipeda in Lithuania to bring gas from the United States and Norway," said Pasi Nakki, the CEO of Elenger Finland. "Now we start cooperation with the Inkoo terminal too and also with a new supplier in addition to our current partner Equinor."
Elenger has signed agreements for a total of ten cargoes by fall 2023. Three deliveries arrived in Klaipeda in January and March, and a total of seven deliveries will arrive at the new Inkoo FSRU terminal in the spring and summer.
"Venture Global is proud to continue our support of a strong and secure Europe through the delivery of LNG to the newly installed Inkoo import terminal in Finland," said Mike Sabel, CEO of Venture Global LNG. "Throughout this energy crisis, our allies in Finland have moved expeditiously to position new infrastructure that will allow their country to support the energy security of the Finnish people as well as the broader Baltic region."
Venture's Calcasieu Pass LNG plant is not formally in commercial operation, and it is still technically delivering "commissioning" cargoes. However, it has been liquefying gas and filling ships since mid-2022, according to S&P Global. Venture's project timeline suggests that it will declare full operational status for the plant in the third quarter of 2023.