Fincantieri Enters U.S. Wind Sector with Contract to Build Crest's SOV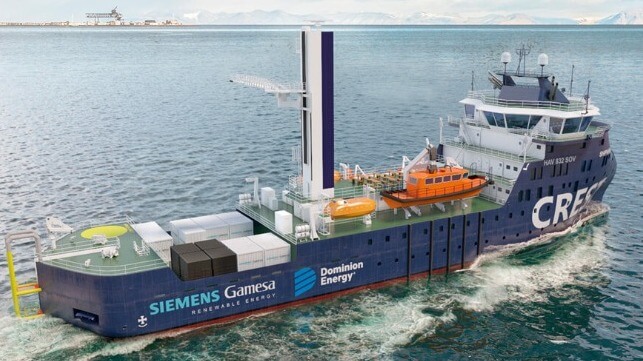 Fincantieri, through its U.S. subsidiary Fincantieri Marine Group, is entering U.S. offshore wind as part of the corporation's effort to become "a prime mover in the offshore wind sector." The shipbuilding group reached an agreement for a construction contract with Crest Wind, a joint venture between Crowley and Esvagt, to design and build a U.S. Service Operation Vessel (SOV).
News of the shipbuilding contract comes a day after Crest announced that it had an agreement with Siemens Gamesa to build and operate the SOV. The vessel, which will be on a long-term charter to Siemens Gamesa, will provide support for Dominion's Coastal Virginia Offshore Wind project, which will be one of the first large commercial offshore wind farms in the United States.
Crest Wind is a joint venture launched between Crowley and Esvagt, a Danish firm that pioneered the design of SOVs and is one of the largest operators of the unique vessels. SOVs are purpose-built vessels used to transport technicians to service and monitor the operation of wind turbines at sea. They provide living and working quarters for the teams and often stay onsite at the farms for extended periods. Crest plans to develop a fleet of vessels to realize opportunities across the emerging U.S. business.
The new 288-foot vessel, which will have accommodations for 80 crew and technicians, will be built at Fincantieri Bay Shipbuilding's shipyard in Sturgeon Bay, Wisconsin. Fincantieri Marine Group's team at FBS will work with Crowley's on-site construction management group to complete the building of the Jones Act-compliant vessel. The design will be developed by Esvagt incorporating elements such as a motion-compensated gangway and offering recreational activities for the onboard crew and technicians, including fitness facilities, a game room, a cinema, and individual accommodations. The SOV will go into service in 2026.
Crowley notes that the vessel will bring the latest innovations and performance capabilities to support the emerging clean energy sector in the U.S. while according to Esvagt it is part of a partnership between Fincantieri Bay Shipbuilding and Crest that "has been developing for some time." Fincantieri Bay Shipbuilding has been working with Crowley on a separate project to build LNG bunkering barges.
"This order confirms Fincantieri as a prime mover in the sector of offshore wind support vessels, which will attract huge investments in the coming years," predicts Pierroberto Folgiero, CEO of Fincantieri. "As stated in our business plan, the push for decarbonization will further strengthen our industrial competitive positioning and the distinctiveness of our business model. At the same time, it will stem synergies across the whole core business to enhance the competencies of our group."
Fincantieri highlights that it already has ten Construction Service Operations Vessels (CSOV) or SOV contracts in its portfolio, along with two cable-laying vessels. The group looks to win further opportunities resulting from the increase in the total installed capacity of offshore wind farms expected by 2030 and the need for vessels for all aspects of the wind farms. In the U.S., Fincantieri is also currently building several LNG bunkering barges and at its Fincantieri Marinette Marine yard construction is beginning for the U.S. Navy's new Constellation-class frigates.
Shipbuilders in the U.S. and elsewhere are looking to the offshore wind energy sector as an opportunity as the emerging industry requires vessels ranging from service operation vessels to turbine installation, site construction, barges, and crew transfer vessels. Dominion has already ordered the first U.S.-built wind turbine installation vessel from another shipyard while Great Lakes Dredge & Dock Company, signed a contract for the construction of a Jones Act-compliant Subsea Rock Installation Vessel. Several U.S. shipyards have also received contracts for crew transfer vessels with the expectation that the sector will continue to require new vessel construction contributing to growth in shipbuilding at least till 2030.