Crowley and Esvagt JV to Build US SOV to Service Dominion's Wind Farm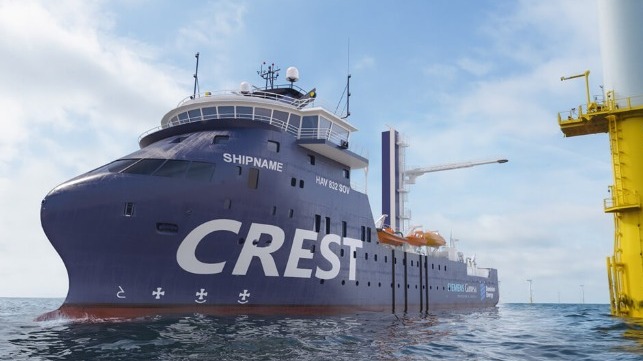 Crowley will build a state-of-the-art service operations vessel (SOV) in partnership with Denmark's Esvagt as part of the emerging industry to service the U.S. offshore wind power generation industry. The vessel, which will be built and registered in the U.S. will operate under a long-term charter with Siemens Gamesa Renewable Energy for service operations on the Dominion Energy Coastal Virginia Offshore Wind project.
"This is an important step in the development of a skilled offshore workforce in America," said David Hickey, CEO, Service Americas for Siemens Gamesa. "This charter will enable us to provide top-tier service for the Coastal Virginia Offshore Wind project with a U.S.-built vessel."
Anticipating the emerging demand for vessels to support the new U.S. industry, Crowley and Esvagt, which is the largest operator of SOVs in Europe, launched a joint venture in 2021 called Crest Wind. The JV leverages the Danish firm's expertise developed over a decade with the design and operating practices for SOVs with Crowley's position in the U.S. market.
Crowley and Esvagt said the new vessel, which will be 288 feet long, will be U.S. built and is expected to enter service in 2026. It will employ state-of-the-art technologies to augment safety, workability, and comfort to support the O&M activities of the wind farm project. It will have accommodations for 80 crew and technicians and incorporate elements such as a motion-compensated gangway and transfer boats. It will also offer recreational activities for the onboard crew and technicians, including fitness facilities, a game room, a cinema, and individual accommodations.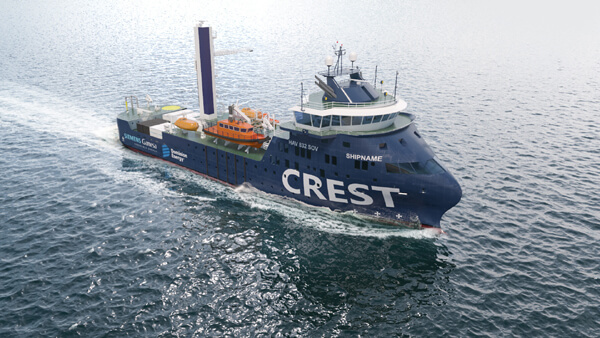 "This vessel marks another significant milestone in our combined capabilities to help develop, construct, and serve the U.S. offshore wind market's needs," said Bob Karl, senior vice president and general manager of Crowley Wind Services. "We appreciate Siemens Gamesa's trust in our capabilities, and we look forward to continuing our work to develop state-of-the-art, purpose-built vessels to meet sustainable energy demands in the U.S."
Under the contract, Crowley will manage and crew the SOV to support Siemens Gamesa's service operations. Esvagt will support Crowley with design, construction, crew training, and operation services as part of the Crest joint venture.
Dominion Energy is moving forward with its efforts to construct the wind farm off the Virginia coast. Plans call for it to include 176 Siemens Gamesa wind turbines and three offshore substations.
Servicing an offshore wind farm is demanding labor handled by a highly specialized team of service technicians who are often offshore for weeks. During their stay offshore, the technicians live on the SOV, which also has workshops and much of the equipment and spare parts needed to service an offshore wind farm.