EPA Fines CMA CGM and Four Ships Over Claims of Clean Water Act Violations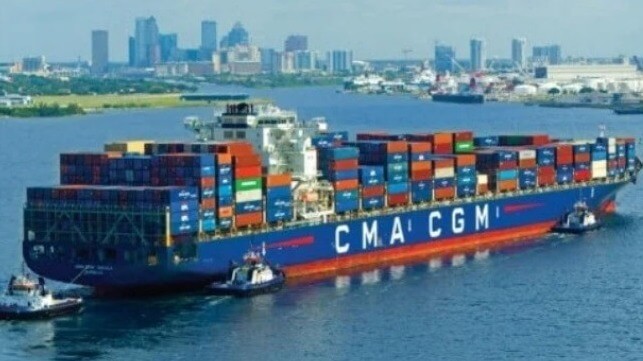 The U.S. Environmental Protection Agency (EPA) settled a series of claims against CMA CGM over claims of violations of the U.S. Clean Water Act related both to the quality of water discharges and the vessels' testing and record keeping. This settlement is the latest in a series of cases brought by the EPA as it seeks to become more aggressive in its enforcement of a program of permitting and self-testing for large ships calling in U.S. ports.
Under the terms of the settlements, CMA CGM will pay $165,000 in penalties for claims of violations by four of the company's ships. The claims ranging between 2017 and 2020 involved ballast water discharge, record keeping, inspection, monitoring, and reporting.
Over the past decade, the EPA has required commercial vessel owners and operators whose ships enter the ports and waterways of the United States to comply with the Vessel General Permit program. They are required to file a notice of intent for discharges that are incidental to the normal operation of a vessel. As part of the permits, the vessels are also required to conduct self-testing programs and maintain a series of records.
"The Vessel General Permit is a key element of the Clean Water Act," said EPA Pacific Southwest Regional Administrator Martha Guzman. "When companies and their ships don't comply with this permit, the quality of our nation's already-challenged waters can be seriously impacted. "It's incumbent upon vessel owners and operators to properly manage what they discharge into our oceans, and to meet their monitoring and reporting requirements."
The settlement with CMA CGM involves four vessels. The CMA CGM Fidelio (113,964 dwt – 9,415 TEU) was subjected to the largest fine of $52,197 for violations between 2018 and 2020 that included failing to properly report ballast water discharges and testing results, failing to conduct the annual calibration of the ballast water treatment system's sensors and equipment, and failing to conduct sampling for biological indicators.
Two other vessels, sister ships CMA CGM A. Lincoln and CMA CGM T. Jefferson (each 149,000 dwt – 14,360 TE) were each fined just over $48,000. The Lincoln had record keeping errors in 2018, 2019, and 2020 and had a compliance failure due to reporting an untreated ballast water discharge to navigable waters at Norfolk, Virginia in 2021. The APL Columbus (115,000 dwt – 9,200 TEU) was fined $16,293 for record keeping errors in 2017 and 2018. EPA's settlement with CMA CGM resolves claims of Clean Water Act violations and are subject to a 30-day public comment period prior to final approval.
The EPA emphasizes that the vessel self-inspections are required as a means of identifying, for example, potential sources of spills, broken pollution prevention equipment, or other issues that might lead to permit violations. Self-inspections they said permit owners and operators to diagnose and fix problems in a timely manner to remain compliant with the permit and with U.S. law. The EPA is moving to increase its enforcement because they say the permitting program relies on self-reporting by the permit holders.
In June 2023, the EPA also settled cases involving Singapore-based Swire Shipping and Japan-based MMS Co., part of the Meiji Shipping Co. group, resulting in a total of $337,000 in fines for similar violations. The EPA in November 2021 also assessed a total of more than $81,000 in penalties against two vessels, the MSC Aurora and Western Durban also for failing to conduct and record testing, monitoring, and calibration of the vessels' ballast water treatment systems.
Critics while recognizing the importance of the program also say the regulations are poorly drafted. They say there is confusion about what is compliant. They point out the EPA imposed stricter and more frequent testing requirements than recommended by the equipment manufacturers.