EJF: Germany Needs More Focus on Fishers' Human Rights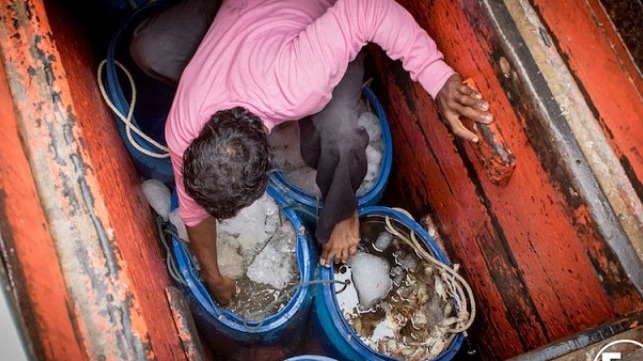 Germany has begun assessing whether its businesses are taking the necessary actions to stamp out human rights abuses in their international operations. The nation's National Action Plan Business and Human Rights aims to ensure that no German business has any trace of human rights abuses in its supply chains.
The initiative has been welcomed by the Environmental Justice Foundation (EJF), but the EJF highlights the need for a focus on abuses in the seafood industry. Fishers commonly operate in isolated and hazardous conditions, where effective oversight and controls can be avoided by unscrupulous and criminal operators. Overfishing and the subsequent rise in fishing costs have left these workers extremely vulnerable to trafficking, forced, bonded and slave labor and violent abuse aboard fishing vessels, as some fishing companies attempt to keep costs low.
87 percent of the fish and fish products consumed in Germany are imported, making the country the world's sixth largest importer in the sector. This central role in international trade links comes with an important responsibility to ensure that its fisheries sector only derives product from legal, sustainable and ethical sources, says the EJF.
Thailand, for instance, is an important trade partner to Germany for seafood, especially when it comes to tuna. Yet EJF has uncovered horrific human rights abuses in the Thai seafood industry, from migrant workers forced to work as slaves, to torture and murder aboard ships.
"Germany must have the tools and mechanisms in place to ensure that it is not driving human rights abuses through its trade links," says EJF Executive Director Steve Trent. "Seafood products bear a particularly high risk of being produced in connection with human trafficking and slavery. The National Action Plan can help raise awareness of human rights issues if it is used to drive full transparency and traceability throughout supply chains. As well as working to identify and remove any links to abuse, the German government and businesses must engage the simple, cost-effective mechanisms for transparency. This will allow them to expose rogue operators while rewarding responsible businesses."
Human rights abuses in fisheries drive a vicious circle, he says. Cheap or free labor means seafood companies can afford to overfish the oceans, often engaging in illegal, unregulated and unreported fishing. This devastates fish stocks, raising costs for legitimate fishers and building incentives to use slave labor. This cycle of abuse also undermines food security in some of the world's poorest and most vulnerable countries.
"Operators engaged in these activities are also more likely to be involved in other criminal enterprises, such as tax avoidance and smuggling drugs, weapons or other contraband substances. All this undermines and disincentivizes legitimate fishing operations," says Trent.
The action plan and government assessment of companies' strategies show that Germany is taking steps to become a global champion in this area. Both the government and the private sector must now push forward on reforms, with special attention on the seafood industry, he says.