Eastern Pacific Orders Four of the Largest Ammonia Carriers from China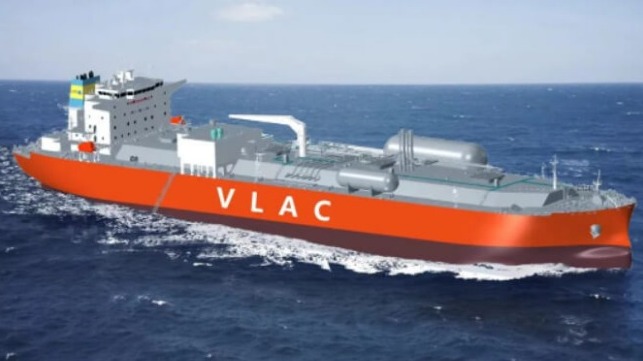 Eastern Pacific Shipping moved to secure its leadership position in ammonia shipping ordering four large gas carriers adapted for the emerging energy source. The shipping company led by Idan Ofer had declared its interest to develop large-scale ammonia shipping nearly a year ago.
The order was placed with Jiangnan Shipbuilding, a subsidiary of China State Shipbuilding Corporation, and China State Shipbuilding Trading Co., for the yard's independently developed design for Very Large Ammonia Carriers (VLACs). The shipyard began taking orders for the new class of ships at the end of 2021. They report that the design has been upgraded and optimized from the traditional VLGC so that it can ship liquid ammonia, which is expected to serve as an energy source and also a carrier for hydrogen. According to the shipyard, one of the challenges of large quantities of ammonia transport is that liquid ammonia has a higher density than conventional liquified petroleum gas.
The design for the new VLAC has been adapted for ammonia. This includes specifically strengthening the tanks. Jiangnan Shipbuilding says that the design is also suited to long-distance transportation of green ammonia but can also be fully loaded with LPG products including propane and butane.
EPS ordered four VLACs each with a capacity of 93,000 cbm. It is the company's first order for ammonia carriers to be built in China and they will be among the largest gas carriers in operation. Each ship will measure nearly 755 feet in length and have a 120-foot beam. They will be classed by Lloyd's Register. Delivery is due to start for the new class of ships in mid-2026.
The design draws upon the experience in building VLGCs. The shipyard reports the engine room will be outfitted with a mature LPG dual-fuel main engine and a shaft generator to meet the current carbon emission requirements. Research is also underway for an ammonia-fueled main engine. They expect the ships will be delivered ammonia-ready for later conversion to the fuel source.
Jiangnan Shipbuilding highlights the order as further growth of its position in the gas carrier market traditionally dominated by the South Koreans. With this order, CSSC reports Jiangnan Shipbuilding currently has a total of 52 VLGC orders, which accounts for more than 23 percent of the global market share for gas carrier newbuilds.
Eastern Pacific in June 2022 announced its intent to build the world's first ocean-going ammonia dual-fuel gas tanker. They announced the signing of a memorandum of understanding calling for the vessel to be built by South Korea's Hyundai Heavy Industries and the first ship to be fitted with the MAN Energy Solutions G60 two-stroke dual-fuel ammonia engine. EPS said it was targeting the introduction possibly as early as 2025 to serve as an example for the industry. They hoped to encourage other shipowners and operators to follow EPS's example and leadership aiming to achieve decarbonization of ship operations.