Dutch Feeder Ship Abandoned and Drifting After Fire in Gulf of Riga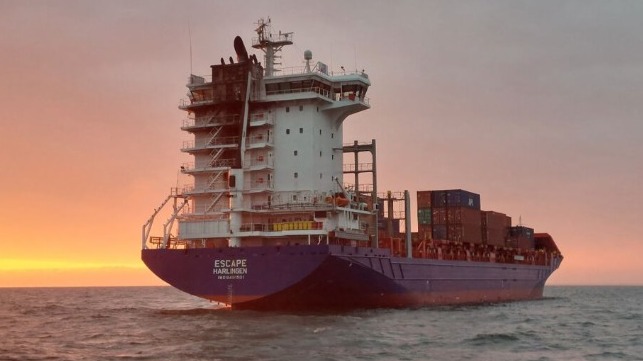 A Dutch-flagged feeder ship has been abandoned and is reportedly drifting in the Gulf of Riga after a fire broke out in the vessel's engine room overnight. The Latvian navy and coast guard responded and coordinated the rescue of the crew from the vessel. Latvian authorities are reporting that they believe the vessel is in no immediate danger and the shipping company, JR Shipping of the Netherlands, has arranged for salvage tugs to secure the ship.
The incident began at 0242 on February 22 according to the MRCC in Riga, Latvia when they received a call for assistance from the Escape, a 551-foot long container vessel sailing from Klaipeda, Lithuania to Riga where she was due to arrive on February 23. The captain reported that a fire had broken out in the engine room which according to the Latvian Navy could not be extinguished by the automatic fire extinguishing system. The 21,293 dwt vessel was built in China in 2011 and has a capacity of approximately 1,400 containers.
Because of their inability to control the fire, the captain ordered the crew of 15 to evacuate the ship into its lifeboat. A passing dry cargo ship, the Kairit (5,487 dwt) operated by the Estonian shipping company Hansa Shipping rescued the crew. The vessel continued to Riga arriving with the rescued crew aboard.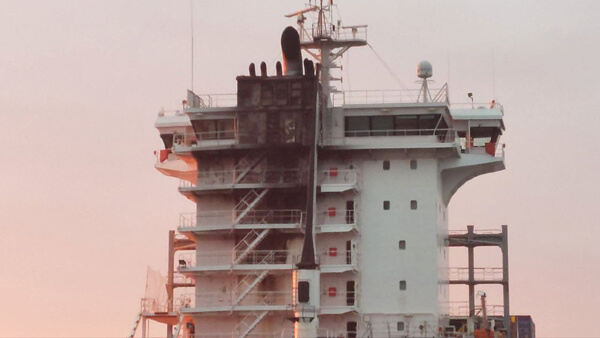 Fire damage to the rear of the deckhouse (Latvia navy photos)
The Latvia Coast Guard vessel Saule reached the Escape and reported that it saw extensive burns on the rear of the deckhouse but no smoke, flames, or signs of an active fire. Lieutenant Commander Peteris Subbota, head of the Maritime Search and Rescue Coordination Center of the Coast Guard, told Latvian Radio that they believed the fire had traveled in the ventilation shafts or funnel but they speculated that it had died out naturally. Two tugboats, the Stella and Orion, equipped with water canons and form generators were being dispatched to the vessel in case the fire reignites.
While the vessel is currently drifting, the coast guard reports it has not moved any significant distance and they believe the danger of the vessel foundering is slight. However, the concern is that the vessel is carrying dangerous cargo believed to include polymers and paint materials. The coast guard however is reporting the fire had not spread to any of the cargo aboard.
They are continuing to monitor the situation until the salvage tugs hired by the shipping company have secured the vessel.