DP World Unveils Game-Changing Storage Rack for Containers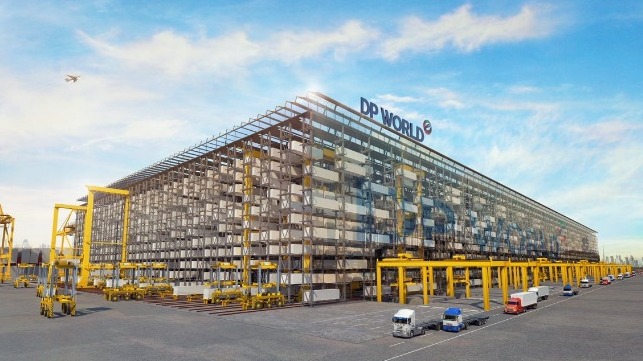 DP World and materials-handling firm AMOVA have signed an agreement to develop a rack-storage system for shipping containers at Jebel Ali Terminal.
Instead of stacking containers directly on top of each other, the system places each container in an individual compartment within an eleven-story-tall steel rack. This method creates three times the capacity of a conventional container terminal of equivalent size.
As an added benefit, the rack carries the weight of the upper containers in the stack, so a container towards the bottom can be accessed without restacking all the boxes on top of it first. This means that container moves will be tightly focused on transferring the cargo in and out, not shuffling it within the terminal. DP World anticipates large gains in speed, energy efficiency and safety. It will also boost ability to handle peak loads: the firm expects that the system will shorten the time taken to load and unload mega-ships by as much as 30 percent. This is a key consideration for handling ever-growing ULCVs, which deliver high numbers of containers in short periods of time.
The storage system was originally developed by AMOVA for storing metal coils weighing up to 50 tons each, in racks as high as 15 stories. While AMOVA is not the only firm to market high bay rack storage designs - similar systems exist for storing palletized cargo, cartons, trays, air cargo containers, and refrigerated goods - it is a specialist in systems for heavy applications, as it started out designing solutions for the metallurgical industry. It is the first company to transfer high bay storage technology to the container port industry.
"As a world first in our industry we are tremendously excited by its potential and groundbreaking features. Our engagement in new technologies is a major priority and we have become known for seeking ways that transform the way goods are moved across the world," said DP World chairman and CEO Sultan Ahmed Bin Sulayem.
The first model of the system will be installed at Jebel Ali Terminal 4. DP World expects to complete it and begin its operations in time for the Dubai Expo 2020 world fair.