DP World Puts Cars in Containers to Increase Shipments from China to Turkey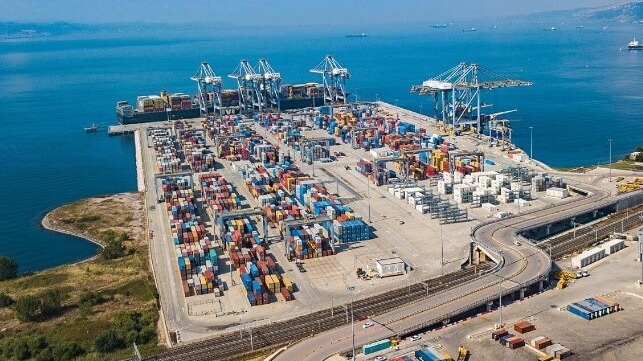 Car manufacturers and dealers globally are confronted by a shortage of capacity from the vehicle transport ships and mounting backlogs at Ro-Ro port facilities. DP World Yar?mca in Turkey working with China's state-owned auto manufacturer Chery Automotive reports it has come up with a new racking solution that makes shipping cars in containers a more financially viable alternative to help elevate the delays in transportation.
"The automotive industry has experienced significant changes and supply chain challenges in the last few years globally, and in Turkey that ranged from microchip to Ro-Ro capacity shortages," notes Rashid Abdulla, CEO and Managing Director, DP World Europe. "I'm proud that our team could implement an alternative solution that helped to ease these challenges – and that we played a key role in the expansion of Chery Automotive into the Turkish market."
China has emerged as the world's largest auto exporter, but for the manufacturers, one of the big challenges is getting the cars out of China and into the global market. Niekki Asia cites data from the China Association of Automobile Manufacturers (CAAM) that Chinese car exports rose 75 percent in the first six months of 2023. Shipping over 2.14 million cars, China overtook Japan as the leading exporter.
While the operators of car transports are rushing to build new vessels to meet the demand, shippers have been seeking out alternatives to get their cars to market. In August, COSCO reported that it had made modifications to its bulkers and was using a new rack system to load cars into the holds of bulkers. Now DP World reports it has designed a new rack that increases the efficiency of loading cars into containers to address the significant delays and congestion in Turkey's vehicle imports.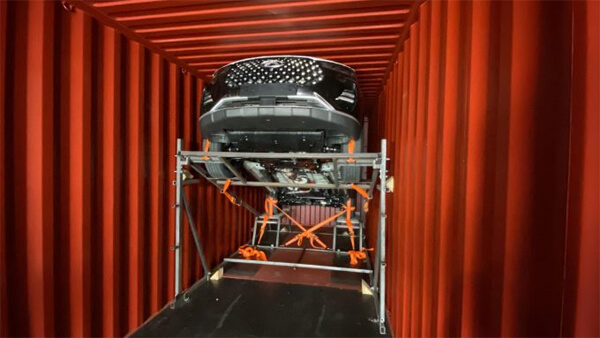 The rack permits DP World and Chery to load three SUVs in each container (DP World Yar?mca)
Turkey's vehicle market is booming with data from Automotive Distributors and Mobility Association (ODMD) showing for example a 37.5 percent year-on-year increase in sales in June 2023. Car sales in Turkey set a new monthly record of 110,000 vehicles, but port congestion is leading to long delivery delays and skyrocketing prices.
Loading cars into containers seems like a natural solution, especially for DP World Yar?mca which reports it has spare capacity. The terminal currently handles approximately 700,000 TEU a year but has an annual capacity of 1.15 million TEU. It offers a total of four berths with space to handle two large, 20,000 TEU containerships at the same time. It is also centrally located on the east side of the Marmara, close to the industrial, steel, automotive, mining, and technical industries.
Using this alternative solution to help make more cars flow into the country more quickly, DP World reports it began importing 10,000 vehicles by putting new SUVs from Chinese automaker Chery Automotive into containers.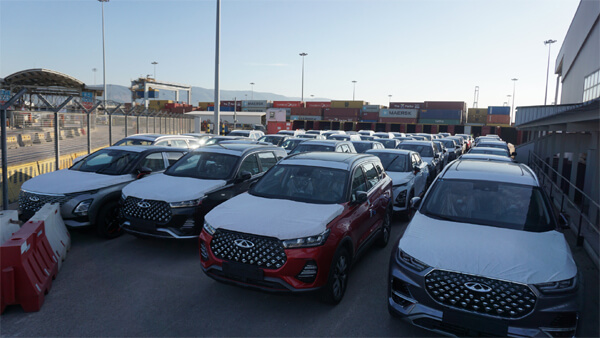 New cars unloaded from the containers in Turkey (DP World Yar?mca)
To further enhance the economics of transporting cars in containers, DP World and Chery implemented a specially designed racking arrangement to increase capacity by loading three SUVs into each container instead of two. It reduces the transport cost for the cars and avoids the backlog at the RoRo terminals. The containers can be handled as normal by the eight large cranes at the Yarimca container terminal.
"Our terminal at Yarimca, which has not traditionally moved vehicles, is now becoming a key hub for new vehicles entering the market," says Kris Adams, CEO of DP World Yar?mca. "The new innovative solutions we have introduced will help Chery Automotive to establish itself as a significant supplier in this market and neighboring countries."