DP World in Talks with Vietnam, Mozambique, Ukraine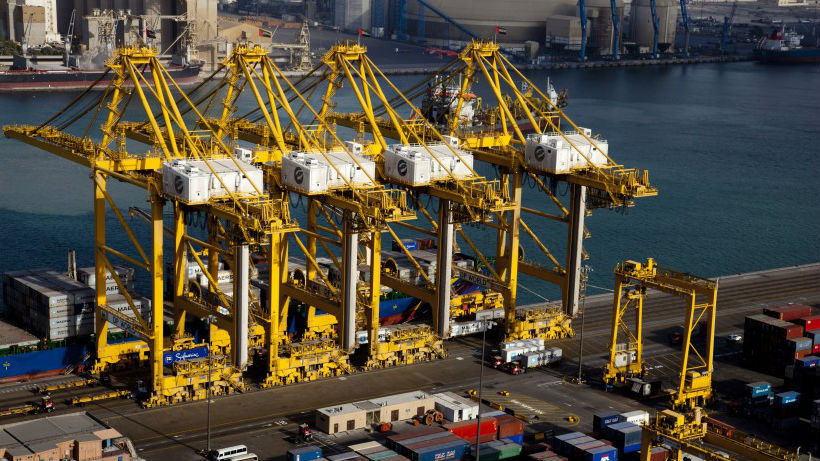 DP World Group Chairman and CEO Sultan Ahmed Bin Sulayem has travelled to nations around the world over the last few months in pursuit of the company's development plans.
Most recently, he met with Vietnamese Prime Minister Nguyen Xuan Phuc in Hanoi this week, expressing his interest in developing logistics parks in Vietnam.
Logistics parks are a strategic solution for global companies seeking to consolidate their operations, he said. Seamless cargo movement to and from these parks is vital, connecting land, air and sea using easy-to-use and smart electronic portals, like the one-stop Dubai Trade Portal offered at Jebel Ali Port and Free Zone in Dubai.
Bin Sulayem expressed his interest in developing logistics zones in Vietnam while participating in other long-term projects to improve infrastructure in the country.
He also met with the President of Vietnam Tran Dai Quang and expressed his interest in further developing trade relations between Dubai and Vietnam, noting that the development of roads connecting sea, land and air are essential to boost Vietnam's future trade potential.
Bin Sulayem welcomed Vietnam's efforts in upgrading roads and bridges connecting to the 40-hectare Hiep Phuoc Industrial Park where DP World operates its Saigon Premier Container Terminal. The terminal is located along the western shore of the Soai Rap River on the 40-hectare Hiep Phuoc Industrial Park, 16 kilometers (10 miles) from Ho Chi Minh City center. The terminal began operations in October 2009 and is an 80:20 joint venture between DP World and Vietnamese state-owned Tan Thuan Industrial Promotion Company.
African Potential
DP World has also been active in Africa with Bin Sulayem visiting Mozambique in November. "Africa has great potential and eight of the world's top 20 fastest growing economies are still located here. Intra-regional connectivity through multi modal infrastructure, supported by investor friendly policies and regulation, and coupled with innovation are the keys to Africa's potential," he said.
"We've always expressed our readiness to support the development of ports and logistics centers in Africa. We've partnered with local governments in all seven of our ports in six African countries and look forward to developing our trade relations further in future years."
There has been a six percent rise in the number of foreign companies investing in Africa, and they are thinking long-term, says Bin Sulayem. Trade between Dubai and Mozambique has shown a significant increase in re-export trade in the last six months.
Ukraine MOU
In October, DP World signed a Memorandum of Understanding with the government of Ukraine to develop logistics capability in the country. The company also delivered a letter of intent from DP World for its P&O Maritime subsidiary to develop the tug and pilot boat services of Odessa port on the Black Sea.
The Ukraine's geographic location on the Black Sea and potential for investment supported by favorable foreign and domestic policies provide a promising environment for the growth of the logistics sector, said Bin Sulayem. He sees substantial scope for cooperation because of the skilled manpower and location of Ukraine with industrial zones being one specific area to explore. He also expressed DP World's readiness to cooperate on the development of customs operations through the use of electronic technologies.
Global Growth
DP World handled 47.5 million TEU across its global portfolio of container terminals during the first nine months of 2016, with gross container volumes growing by 2.2 percent on a reported basis, and up 1.0 percent on a like-for-like1 basis. European and Indian subcontinent terminals delivered robust performance, while conditions in Australia and Latin America remain challenging, said the company.
DP World is in partnership with governments in 40 countries has 77 operating marine and inland terminals.