DP World Bags 30-Year Port Concession in Dar es Salaam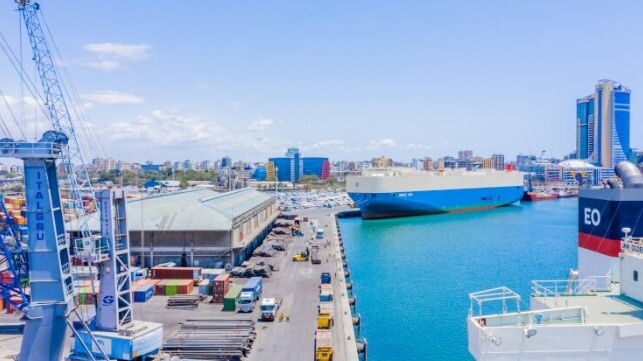 On Sunday, DP World closed yet another major deal along the East African coastline, bagging a 30-year concession at the strategic port of Dar es Salaam in Tanzania. DP World will run four of the 12 berths at the port. The deal was signed between Plasduce Mkeli Mbossa, Director General of the Tanzania Ports Authority and Sultan Ahmed Bin Sulayem, Group Chairman and CEO of DP World, in the presence of the President of Tanzania Samia Suluhu Hassan.
DP World says it will optimize the port's operations and improve transport and logistics services throughout Tanzania and its hinterland. The group has a multi-phase investment plan, beginning with an initial commitment of $250 million to upgrade the port. The total investment will come to $1 billion throughout the entire period of the concession.
"This is in line with Tanzania's strategic development plans. Alongside other ports that we operate, this concession agreement marks another milestone in our collective efforts to leverage DP World's global and local expertise to enhance the region's supply chain," said Sultan Ahmed bin Sulayem.
Improved efficiency at the Dar es Salaam Port could easily turn it into a maritime gateway for the export of green energy metals from the copper belt in Southern-Central Africa, the partners say.
Other projects that DP World promised to prioritize include construction of a refrigerated storage facility to serve Tanzania's agricultural sector, as well as improvements to to railway connections to the port. Development of a special economic zone is also in the works.
"We are excited to collaborate with DP World to modernize the strategic port in Dar es Salaam. This project will create significant value for end-users and help the government achieve its goal of reducing logistics costs," commented Plasduce Mkeli Mbossa.
The lease had earlier sparked controversy after the Parliament approved the Inter-Government Agreement (IGA), signed between Tanzania and Dubai (UAE) to facilitate DP World's operations in Dar es Salaam.
Legal experts and the opposition party condemned the IGA, as it contained some clauses that would benefit DP World more than Tanzania. One clause that was highlighted as unusual was giving DP World the right to manage coastal and lakeside ports in perpetuity if it entered into a concession. Another clause that raised concern was one that prevented Tanzania from withdrawing from the deal "in any circumstances, including in the event of material breach, fundamental change of circumstances, severance of diplomatic or consular services." However, the Office of the Attorney General has since reevaluated some of these terms.
With the Port of Dar es Salaam deal, the DP World's footprint in the African ports sector continues to expand. Other notable port projects that it is involved with include Berbera, Dakar and the Dry Port in Rwanda.