Dominion Energy Receives State Approval of Virginia Offshore Wind Farm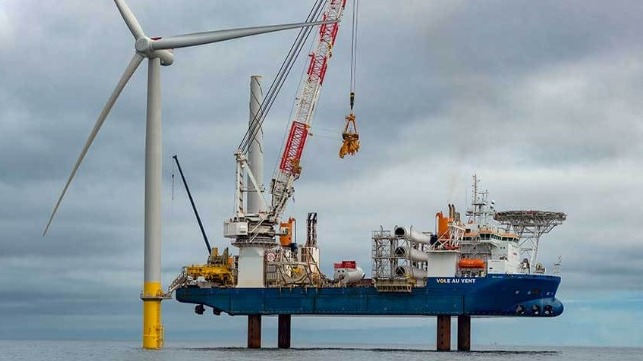 Dominion Energy cleared the next to last step in the permitting process to begin the construction and operation for what is currently the largest planned offshore wind project in the United States. The Coastal Virginia Offshore Wind Project represents a clean-energy investment of approximately $9.8 billion, and due to be completed in 2026 is seen as a model for the future development of the industry in the U.S.
The Virginia State Corporation Commission granted approval last week for the project. The final order from the SCC affirms that the project meets all Virginia statutory requirements for rider cost recovery and the issuance of a Certificate of Public Convenience and Necessity for the onshore infrastructure. The order also includes a performance requirement, and granted approval for approximately 17 miles of new transmission lines and other onshore infrastructure needed to deliver the clean, renewable energy offshore to homes and businesses across Virginia.
"We are very pleased that the commission has approved this important project that will benefit our customers. We are reviewing the specifics of the order, particularly the performance requirement," said Robert Blue, Dominion Energy Chair, President and CEO.
The plan calls for the construction of a 2.6 GW wind farm to be located 27 miles off the coast of Virginia Beach. When completed, Dominion Energy reports the project will generate enough clean, renewable energy to power up to 660,000 homes. The wind farm will consist of 176 wind turbines standing slightly more than 800 feet tall, three offshore substations to collect and bundle the energy, undersea cables to get it ashore, and new onshore transmission infrastructure to deliver the energy onto the broader electric grid.
Two-test turbines became operational in October 2020 as the first offshore wind farm installed in federal waters and is the only project developed and owned by an electric utility. Dominion submitted its Construction and Operations Plan (COP) to the federal Bureau of Ocean Energy Management in 2020 and expects to receive the final approval for the project in 2023. Offshore construction is scheduled to begin in 2024.
To support the project and others in the offshore wind sector, Dominion Energy is building the first Jones Act-qualified offshore wind turbine installation vessel in the United States. The 472-foot vessel, which is expected to cost approximately $500 million is being constructed by Keppel AmFELS's shipyard in Brownsville, Texas, and is due for delivery in late 2023. Dominion has chartered the vessel to Ørsted and Eversource for their early projects in New England before the Charybdis moves to Virginia for the construction of the Coastal Virginia project.