Divergent Results for SoCal Ports as They Look to Rebuild Volumes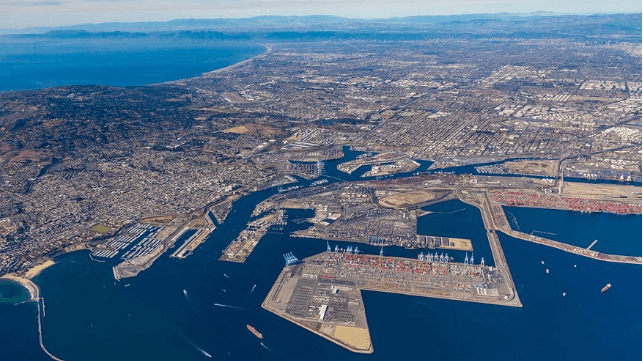 Southern California's two primary ports reported divergent results for June while remaining optimistic that with a resilient economy and tentative longshore labor agreement, they will begin to build back their volumes. The Port of Los Angeles highlighted that it continued on an upward trend for four consecutive months while the neighboring Port of Long Beach said trade was cooling and its volumes stalled.
Los Angeles reported that June was its strongest month in the past year. While volumes were down five percent versus the record June 2022, Executive Director Gene Seroka highlighted that they were six percent ahead of the port's five-year running average. Further, he noted volumes are up 70 percent from the low in February 2023. Imports were down just two percent year-over-year while export volume was up 15 percent.
The neighboring port however showed a different performance, possibly more widely impacted by the labor issues early in June 2023. Long Beach saw container volumes collapse by more than a quarter (28 percent). Imports were down by a third while exports were also down 18 percent. Unlike Los Angeles, Long Beach reported its third-lowest volume of the year falling behind the gains between March and May.
Long Beach noted that economists reported that consumer spending exceeded expectations during the first half of 2023, but said it might flatten out through the rest of the year. Seroka pointed to continuing consumer spending anticipating that retailers would continue to restock.
"The real work begins," however Seroka said, noting "it is an uphill climb," for the ports as they work to rebuild volumes and win back cargo diverted to other ports during the past year of labor uncertainty. He estimated in his monthly update that the past year of labor negotiations had cost the port 15 percent of its volume. The current increase they experienced he said was more seasonal and restocking versus any change by shippers to return volumes to the southern California ports.
Looking forward he noted that carriers have already announced nine blanked sailings from their schedules for July. As a result, he forecast that July volumes for the Port of Los Angeles would be lower than June.
Both ports shared the long-term perspective noting that they are investing in their infrastructure and operations and will be working to attract shipments back to their facilities. Los Angeles notes that it is working with all of the port's stakeholders to enhance efficiency at the terminals, rail facilities, and truck gates. These efforts they said will help to advance digitalization, sustainability, and investments in the infrastructure.
Both ports will also be recipients of state funding announced last week designed to enhance California's port operations and supply chain. In addition, both ports have already benefitted from the federal government's investment in infrastructure. Seroka said he will be back in Washington D.C. twice this month to discuss additional efforts to enhance the resilience of the operations.