Defying Sanctions, Iran Set New Oil Export Record in December
Iran and Russia are competing with rock-bottom prices to woo China's independent refiners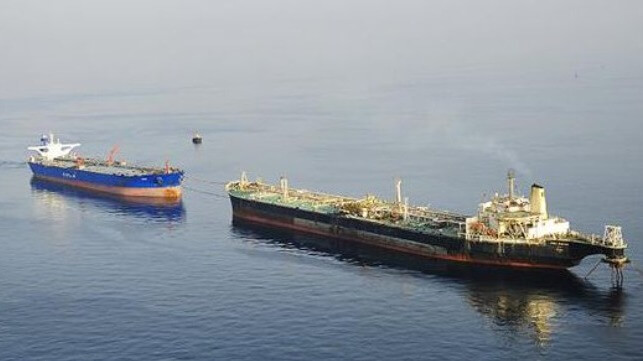 While Russia's oil exports declined in December under strict new Western restrictions, Iran shipped its sanctioned crude oil to market at a record pace, according to tanker tracking firm Vortexa.
Both nations are competing for the same market: a small set of customers who want deeply discounted crude oil and aren't affected by the risks of U.S./EU sanctions. Chinese buyers are at the top of this list, particularly independent refiners in Shandong Province. Amidst low energy demand in China and a narrowing price spread between crude oil and refined products, Chinese "teapot" refineries have turned to buying the reputational-risk discount grades, like Russian Urals and Iran Light.
These refiners heavily favored Iranian crude in November and December, cutting imports of Russian oil and boosting purchasing of Iranian cargoes. "Iran-China crude flows were arriving in China at a rate of 1.2 million barrels per day in December, up more than 130 percent year-on-year," reported Vortexa in a research note on Friday.
In total, Iran's oil exports hit 1.4 million barrels per day in December, a new record since the beginning of U.S.-imposed sanctions in 2018.
December's numbers marked a significant rebound for Iran relative to its fortunes earlier this year, when cheap Russian cargoes made inroads in the Chinese market at Iran's expense. The gray-market Russian oil trade also attracted away dozens of the "dark" tanker vessels that had previously carried illicit Iranian cargoes, thereby reducing the size of the Iran-linked fleet. That (aging) fleet has since rebounded with new vessel additions and more reactivated Iranian-owned tankers - and it was larger at the end of 2022 than at any point in the last two years.
However, the export boom may not last for Iran, cautions Vortexa: Russia has lost access to the European market for its Urals crude grade, and a new wave of Urals cargoes are expected to find their way to Chinese buyers at even deeper discounts in the first quarter.