Deckhands Thwart Attempt to Steal Bremerton Fast Ferry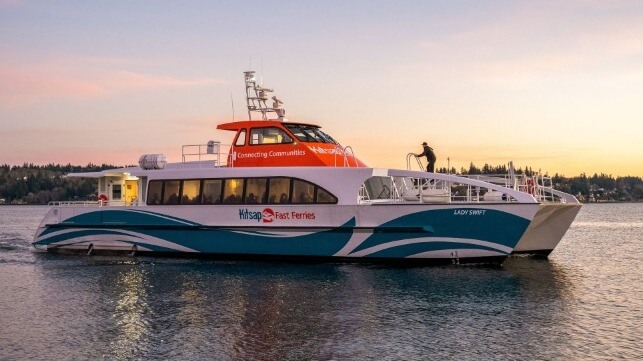 [Brief] Last weekend, a would-be thief who attempted to steal a Kitsap County ferry was thwarted by two brave mariners.
On Sunday morning, a suspect got into a secure mooring slip at Kitsap Transit's pier in Bremerton, Washington. He boarded an out-of-service fast ferry and cast off most of its lines, except for the stern line. The man broke into the pilothouse in what appeared to be an attempt to make off with the ferry.
The vessel began to drift away from the dock, and two deckhands spotted it moving without authorization. Setting aside risks to their personal safety, they boarded the vessel and regained control from the suspect. According to King 5 News, the man picked up a fire axe, but the two mariners continued about the business of bringing the boat back to the pier and tying it up.
Police responded to the scene shortly after, and the man disembarked the ferry and surrendered himself to their custody without further incident, according to Kitsap Transit.
A Bremerton Police spokesperson told KIRO 7 that the man had an unusual motive for the theft attempt: he believed that a revolution was coming and that he would need the ferry.
The suspect has been charged with burglary and related charges for attempting to steal the vessel, according to local media.