Debris Confirms Catastrophic Failure of Titan Submersible Near Titanic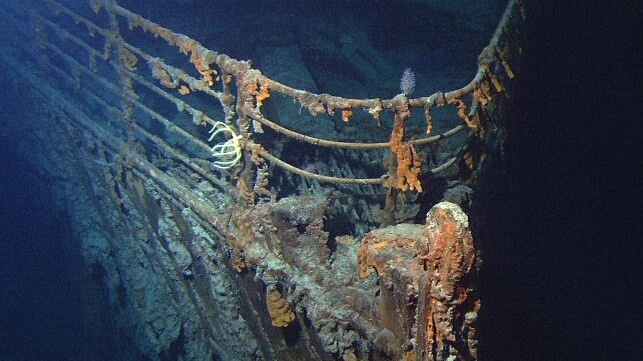 The ROVs working at the site of the Titanic wreck located debris that has been confirmed to be from the Titan submersible. The USCG reported that they have determined that there was a catastrophic failure of the pressure chamber with the debris being located approximately 1,600 feet from the bow of the Titanic in an area that was described to be flat bottom and free of debris from the Titanic itself.
Rear Admiral John Mauger, the First Coast Guard District commander for the U.S. Coast Guard, announced in the briefing that two debris fields had been located and confirmed to contain pieces of the Titan. He said their concerns now are for the families of the five people lost but they would be remaining on-site and continue the ROV operations. Other portions of the response however are expected to begin demobilizing over the next 24 hours. He thanked the international support that has been provided for the "highly complex search."
According to his report, the ROV working from Horizon Arctic, an offshore supply vessel operated by Horizon Maritime, located the debris this morning, June 22. The vessel is supporting Pelagic Research Services which had been brought in by the owners of the Titan, OceanGate Expeditions, on Monday to assist with the search. Pelagic assembled a team of nine for the ROV operation and with three C-17 aircraft provided by the U.S. Air Force moved their assets to St. John's, Newfound, where they left for the search site. They were on site by early Thursday and deployed.
The USCG reports the Pelagic team first located the tail cone of the Titan. They later found a debris field that was consistent with the catastrophic loss of pressure on the submersible. As the ROV search continued they found five major pieces including the front end bell, and in a second debris field the aft end bell. Efforts are currently mapping the debris fields.
Asked to speculate on when the implosion occurred, Mauger said the sonar buoys deployed had not detected a catastrophic event after the search began on Sunday. Another expert said the debris is consistent with the implosion happening in the water column. The Wall Street Journal is reporting tonight that the U.S. Navy detected an anomaly sound on Sunday around the time communication was lost with the submersible that appears to be consistent with an implosion.
An investigation is likely to proceed, as well as follow-up discussions on the level of regulation and oversight of submersibles. Rear Admiral Mauger said however that it was too soon for those determinations, highlighting the remote area and the multinational nature of the incident. He said the USCG team was focused on the search operation and that they have been in contact with the families as well as the British and French consulates. He said that further discussions would continue with the countries involved to determine future actions.