Dead Whale Found at Port of Long Beach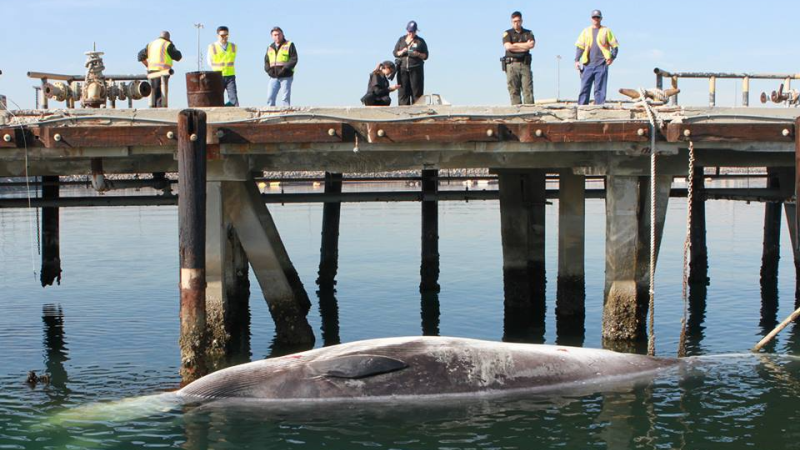 On Wednesday night, the U.S. Coast Guard received a report of a dead whale floating in a channel in Long Beach Harbor. A fire department boat crew found the animal near TTI's Pier T container terminal, and at the request of the National Oceanographic and Atmospheric Administration (NOAA), they secured it to a wharf so that marine biologists could examine it the next day.
NOAA said that the 50-foot mammal was a juvenile fin whale, a species that migrates past California at this time of year. The agency's marine biologists found abrasions on the animal's midsection, which could have resulted from a ship strike, according to NOAA spokesman Michael Milstein.
Whale strandings and whale strikes are not uncommon on the West Coast, but port officials told local TV news that it was the first time in a decade that a dead whale has been found within the harbor.
The animal was likely struck by a merchant vessel off the coast and carried into port on the bulbous bow, according to Alisa Schulman-Janiger, a marine biologist who is a member of NOAA's stranding team. "That's almost certainly why it's here," she told the local Daily Breeze. "They don't go in the harbor."
Biologist Bernardo Alps said that he would like to tow the animal to a beach in order to perform a full necropsy, which would help establish the cause of death.
The fin whale is an endangered species: its numbers were much reduced in the early 20th century, when the advent of steam power allowed whalers to catch up with the speedy animals. An estimated 700,000 fin whales were taken in the Southern Ocean between 1905 and 1975, with the annual harvest declining quickly in the 1970s. The IWC banned hunting the Southern Hemisphere and North Pacific populations in 1976, and the fin whale's numbers are on the rise again – especially off the U.S. West Coast, where NOAA estimates that their numbers have increased five-fold since 1991.