[Photos] DB1 Barge Raised in Record Salvage Lift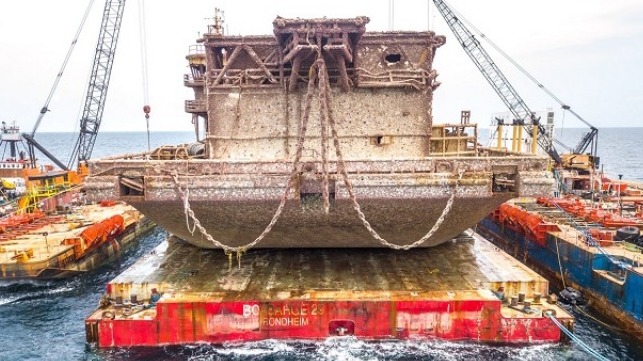 Resolve Salvage and Fire Americas has raised the sunken derrick barge DB1 by executing the heaviest salvage lift ever accomplished in the Americas.
The 350-foot by 100-foot derrick barge DB1 sank 30 miles offshore in the Gulf of Mexico on October 22, 2017, when adverse weather caused it to drag anchors and contact the offshore platform she was engaged in removing. Multiple compartments were breached, and the DB1 came to rest on the sea floor on top of the platform jacket structure.
A one-piece lift of the DB1 represented the most environmentally friendly removal method compared with other proposals to section the vessel in pieces. For the removal project, assets were mobilized from Resolve's salvage bases around the world including from Singapore, Fort Lauderdale and Mobile. Key project assets included Resolve's patented heave-compensated chain puller lift system deployed from the Resolve Conquest MB1 1,400 ton derrick barge and RMG 302 crane barge. Resolve mobilized a 40-person team of salvage experts and divers to support the 24/7 operation and engaged numerous support vessels and resources from the region.
After extensive preparations including the installation of heavy rigging under the DB1, the lifting gear was connected and the DB1 was steadily raised to the surface between the MB1 and RMG 302 with 6,000 tons of lift force – an industry first.
Resolve then mobilized the Boabarge 29, a semi-submersible barge to the offshore site to receive the DB1. On arrival, the Boabarge 29 submerged to the seafloor and the DB1 was winched over the top with inches of margin. The submersible barge was then raised with the DB1 safely aboard and then towed to Brownsville, Texas, for DB1's dismantling and recycling.