[Updated] Damaged Roads Hamper Cargo Flow at Puerto Rico's Ports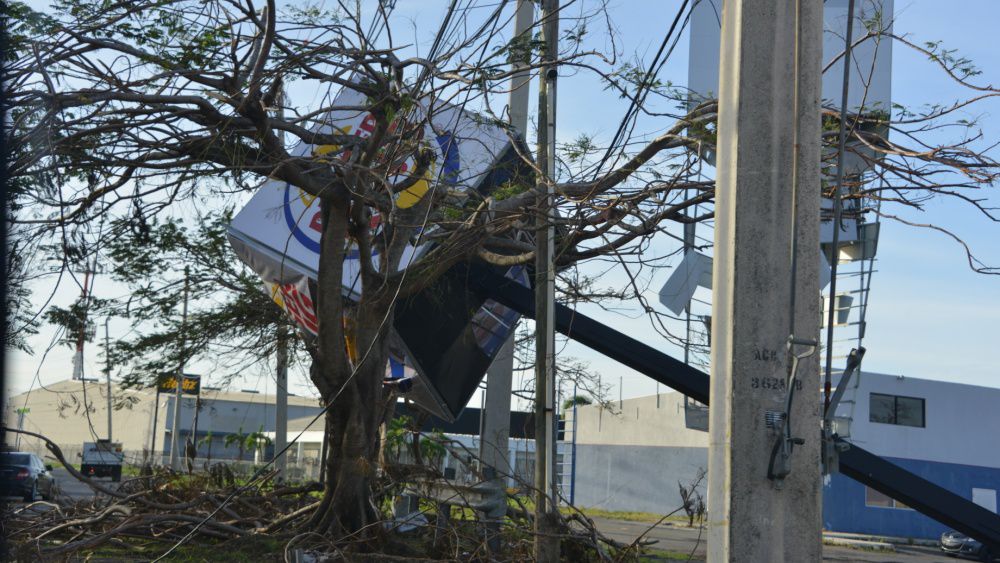 Now that Hurricane Maria is past and Puerto Rico's recovery has begun, the Port of San Juan is open for business and vessel traffic has resumed. But the storm-damaged inland transportation infrastructure may not be up to the task of distributing the basic goods and humanitarian aid that Puerto Ricans need, officials say. A shortage of trucks and truck drivers is limiting the pace of pickups, and the damage to the island's road network is slowing the transportation of shipments to their final destinations.
"There are limited numbers of trucks, tankers for fuel, for transportation," said Alejandro de la Campa, the regional director for the Federal Emergency Management Agency (FEMA) in a briefing on Wednesday. "We will bring [in] additional tankers. We are bringing in additional trucks."
The distribution problems are especially acute for fuel, which Puerto Rico needs not just for transportation but also for power generation. The storm knocked out transmission lines across the island, leaving stores, hospitals, airports and government buildings dependent on gasoline- and diesel-fueled generators for electricity. Tanker truck distribution has not been fast enough to keep up with the demand, and only about 450 of the island's 1,100 stations had fuel as of Wednesday, according to Governor Ricardo Rossello. The queues at gas stations are so long that residents have been forced to wait for up to eight hours to fill up their tanks. One citizen, Marangelly Garcia, told Reuters that she intended to camp out overnight to make sure she could get enough diesel for her generator. The National Guard has been deployed in force to ensure security and order at gas stations around the island.
National Guard troops deploy at a gas station in San Juan (DoD)
Much of the island's petroleum passes through Buckeye's Yabucoa terminal, which reopened for shoreside distribution last weekend. Puma Energy Holdings, another product terminal operator, also reports that its facilities have been open for days.
Yabucoa facility director Hans Rutzen Callegas told El Nuevo Dia that he isn't sure why there is a fuel crisis: the terminal has been sending out full tankers as normal since Sunday, and it has enough inventory on hand to continue for several days more without resupply. While the trucks are departing regularly, Callegas noted that nighttime driving is out of the question in many parts of the island because of the hazards posed by downed powerlines, debris and a lack of street lighting.
Conditions near San Juan (DoD / U.S. Air National Guard)
No Jones Act waiver for Puerto Rico
On Tuesday, the Department of Homeland Security denied a Jones Act waiver request for Puerto Rico, citing the available capacity in the U.S. fleet. Bloomberg estimates that there are already 11 product tankers under way for Puerto Rico, in addition to the container vessels and barges that bring the island its consumer goods.
President Donald Trump said Wednesday that he is considering a Jones Act waiver for the island, but he added that there is significant opposition to the move. "We have a lot of shippers and a lot of people that work in the shipping industry that don't want the Jones Act lifted," Trump said. "And we have a lot of ships out there right now." Florida, which relies on Gulf Coast refineries for its fuel, received a two-week Jones Act waiver for coastwise petroleum shipments in the wake of Hurricane Irma.
In a statement Wednesday, the industry advocacy group American Maritime Partnership (AMP) asserted that Jones Act vessels can already carry over 4,000 containers per week to Puerto Rico, and said that the real restriction for aid delivery is the island's damaged inshore infrastructure, not a shortage of ships. "The largest bottleneck is not getting goods to the island, but delivering goods once they arrive," AMP said.
[Update: On Thursday, White House press secretary Sarah Huckabee Sanders announced that in response to a request from Gov. Rossello, the Trump administration has reversed course and has issued a 10-day Jones Act waiver for Puerto Rico. A Department of Homeland Security spokesperson told reporters that the waiver was made in the interest of national defense.]
USNS Comfort prepares to depart
On Tuesday, the Trump administration ordered the hospital ship USNS Comfort to make ready to depart for Puerto Rico, and she should arrive early next week. The Military Sealift Command-operated ship has 1,000 beds and 10 operating rooms, and she will supplement the island's damaged health care infrastructure. Most of Puerto Rico's hospitals are running on generator power, and Gov. Rossello said Wednesday that some have had to close because they have run out of fuel.