Crowley Takes Delivery of LNG-Fueled Con/Ro
On Friday, shipbuilder VT Halter announced the delivery of Crowley's new LNG-powered con/ro El Coquí, one of the first vessels of its type in the world.
The Jones Act-qualified vessel will serve Crowley's liner service route between Florida and Puerto Rico, alongside her soon-to-be-delivered sister ship, the Taíno. Each vessel can carry about 2,400 TEU of containerized cargo - including outsize 53-foot boxes and up to 300 reefers - plus about 400 vehicles stowed in its interior ro/ro holds. Crowley says that the ships' enclosed and ventilated ro/ro decks are unique to the Puerto Rico trade, and are more commonly found on PCTCs.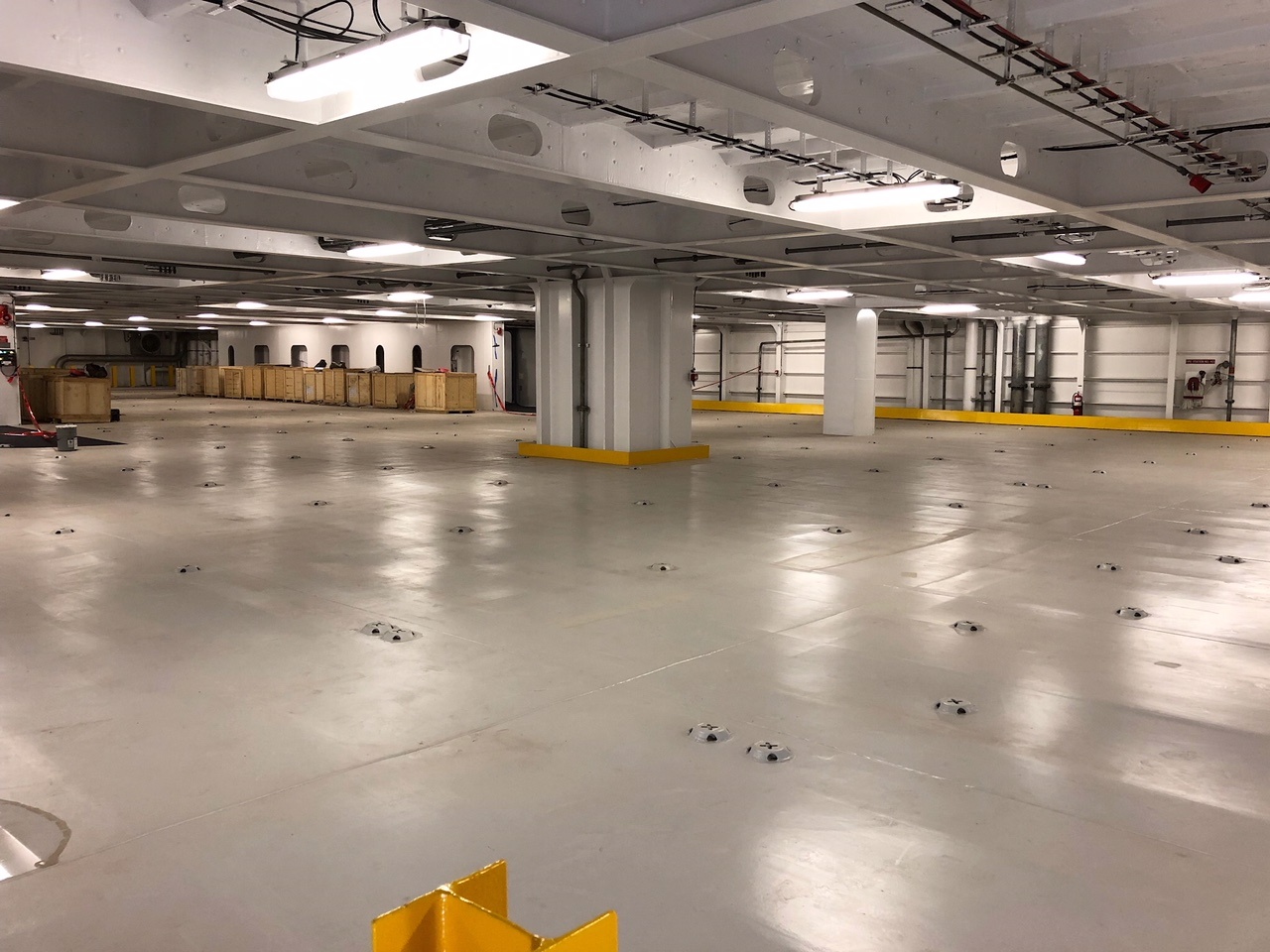 El Coquí vehicle deck (Crowley)
The design's beam fits the original-Panamax standard of 32.3 meters, and it is smaller than the limits for a Panamax boxship's draft and length. The price per vessel has not been disclosed, but Crowley says that it is investing a total of $550 million to upgrade its U.S.-Puerto Rico service, including $130 million for terminal improvements in San Juan.
VT Halter Marine and Crowley signed a contract for the two sister ships in November 2013, and first steel was cut at VT Halter's Pascagoula yard in October 2014. The yard held a keel-laying ceremony in January 2015, and it launched El Coquí in March 2017. The vessel's delivery was originally scheduled for the second half of 2017.
"The teams from Crowley and VT Halter Marine have worked tirelessly to overcome challenges and their efforts and spirit must be commended on today's delivery of El Coquí to Crowley. We are proud to be a part of Crowley's long standing legacy in transportation services, and the role El Coquí and soon-to-join sister vessel Taíno will play in shipping and logistics to San Juan," said Rob Mullins, CEO of VT Halter Marine.
Competitor TOTE Maritime has also deployed two newly-built, LNG-fueled vessels on the Florida-to-Puerto Rico route, but TOTE's ships are only fitted for containerized cargo. Due to the nature of LNG as a marine fuel, all four ships will comply with ECA standards and with the upcoming IMO global sulfur cap.