Crewmembers of NCL Cruise Ship Arrested for Smuggling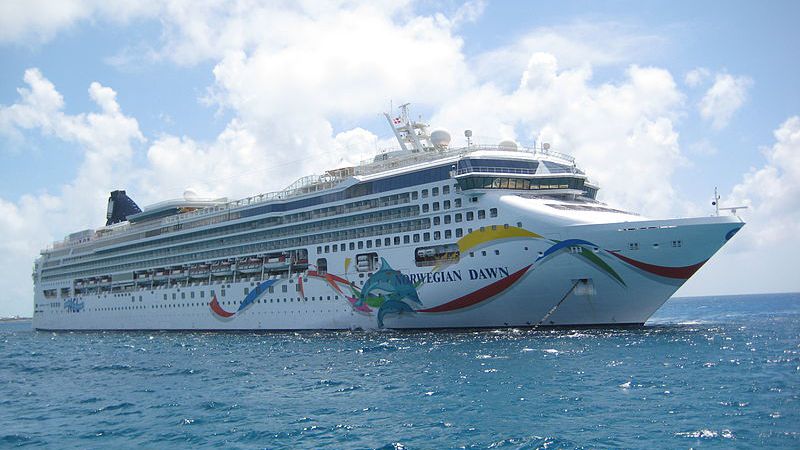 Five men including three crewmembers of the NCL cruise ship Norwegian Dawn have been arrested by U.S. Department of Homeland Security agents in New Orleans on felony charges of cocaine smuggling.
According to a federal court filing, at 0930 hours January 3, Homeland Security agents spotted two crewmembers removing shoes and clothing in a public restroom near the docks and detained them. The agents allegedly found them in possession of six packages of cocaine in a shoulder bag.
Authorities separately tailed and detained a third crewmember, Esias Felicien, and a fourth man Esias had met nearby.
Agents said that one of the detainees, Asbert Lowmans, agreed to cooperate. Lowmans helped the authorities to conduct a sting operation to arrest the alleged buyer of the drugs, identified as Jamaican national Alfred Dennison, in which Lowmans carried a dummy bag appearing to be the cocaine to Mr. Dennison's hotel. Mr. Dennison was found to be in possession of $19,000 in cash.
In the filing, the agents said that they had confiscated a total of 4.75 kilograms of cocaine in the bust.
The nationalities of the three crewmembers were not released. The Norwegian Dawn had recently arrived from Honduras at the time of the arrests.
Norwegian Cruise Lines has not made a public statement regarding the incident as of January 8.
Norwegian crewmembers were arrested in several additional incidents in 2015.
Five crewmembers of the Norwegian Sun, Jason Carmichael, Teffan Delice, Johnson Cherubin, Alfred Ince, and Arkine John, were arrested in March on charges of smuggling 7.5 kilograms of cocaine from Honduras to Tampa, Florida. They were found in possession of $50,000 in cash and pled guilty to the charges. A sixth employee, Desrick Gordon, was convicted of involvement in December.
A month later, a galley employee on the Norwegian Dawn was arrested on cocaine smuggling charges in Roatan.
Cruise ship specialist maritime attorneys Walker & O'Niell have reported news of additional arrests.
The Norwegian Dawn made news in May with a grounding on a reef near the Bahamas. Divers inspected her hull, and on finding no critical damage, she was refloated at high tide on the evening of the incident. Passengers on board captured the event with multiple photos posted to social media.