Court Revokes Trans Mountain Pipeline's Federal Approval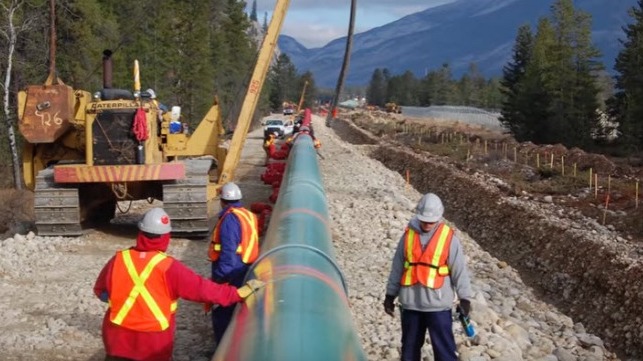 Canada's Federal Court of Appeal has struck down the regulatory approval for the multi-billion-dollar Trans Mountain oil pipeline expansion because of a "critical error": the government's project review did not consider the sevenfold increase in local tanker traffic that will accompany the expansion. The environmental review noted but did not incorporate the expected impact on the endangered Southern resident killer whale population, which inhabits Georgia Strait, Haro Strait and the Strait of Juan de Fuca.
"The unjustified exclusion of project-related marine shipping from the definition of the project rendered the Board's report impermissibly flawed," the court concluded. "This exclusion permitted the Board to conclude that, notwithstanding its conclusion that the operation of project-related marine vessels is likely to result in significant adverse effects to the Southern resident killer whale, the project was not likely to cause significant adverse environmental effects."
The Trans Mountain expansion would triple the capacity of the pipeline connecting Alberta's tar sands oil fields with the sea, bringing its maximum volume to 890,000 bpd. This would provide Canada's inland energy firms with expanded access to Pacific Basin markets: For the first time, they would be able to sell in high volume to non-American buyers at prevailing international prices. This has made the pipeline a top priority for the Liberal government of Prime Minister Justin Trudeau - such a priority that the government has promised to buy it from owner Kinder Morgan in order to overcome regional opposition and bring it to completion.
In a coincidence, the court's decision to pause the expansion came on the same day as Kinder Morgan shareholders voted to approve the pipeline's sale to the Canadian government. The parties now have seven days to conclude the transaction, and Kinder Morgan said that it still expects the deal to close Friday. At a press conference Thursday, Canadian finance minister Bill Morneau confirmed that the government intends to move ahead with the purchase despite the court order for further review.
"We're looking forward to moving forward to the conclusion of this purchase. It will happen as early as tomorrow," said Morneau. "We know that this is an economically good decision for Canadians, not only in terms of the pipeline itself, but in the benefits it will bring to our broader economy."
The court decision also requires the government to conduct more extensive consultations with First Nations. "The law requires Canada to do more than receive and record concerns and complaints," the court found. "On the whole, the record does not disclose responsive, considered and meaningful dialogue coming back from Canada in response to the concerns expressed by the Indigenous applicants."