Costa Serena Resumes Sailing Six Months Early with First Asian Cruises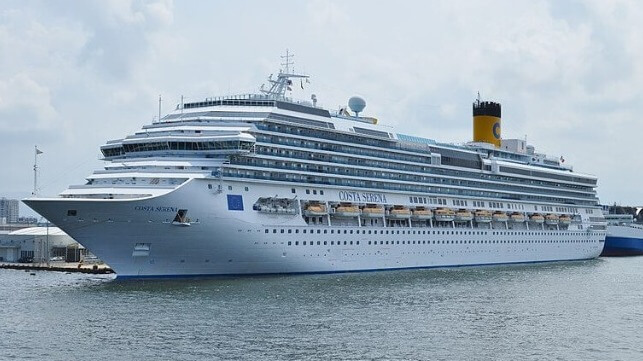 In a positive step forward for the return to cruising in Asia, Costa Cruises announced that it has formed a partnership with Asian travel organizations to return the Costa Serena cruise ship to service as the first Costa ship in the region since the 2020 suspension of cruise operations. The 114,000 gross ton cruise ship has been idle for three years and now will return to service six months ahead of schedule.
Costa signed a commercial agreement with travel partners in South Korea and Taiwan for a total of 30 cruises to be operated between June and September 2023. In June, the ship will operate six cruises from South Korea, and then from July through September, the ship will operate another 24 cruises for the Taiwan market.
"The new cruises announced today are an important signal for the recovery of the industry in Asia," said Mario Zanetti, President of Costa Cruises. "We achieved this significant result thanks to our historic presence in Asia and established relationship with local partners, as well as the recent reopening to cruising of some countries in the area."
Costa in 2022 had announced that with the Asian markets remaining closed that it would be reorganizing its operations in the region reducing staff and instead focusing on its operations in other areas of the world. Before the pandemic, Costa had a significant presence in the Chinese market with the Costa Serena as one of the line's ships offering cruises in East Asia. Costa also built two new cruise ships that were designed for the Chinese market but they were not completed until after the markets closed during the pandemic.
"Recently, we can see that international cruise lines have resumed routes in Asia one after another, and the demand for cruise tourism has also increased," said Roberto Alberti, Chief Operating Officer of Costa Cruises. He predicted the Costa Serena would be followed by additional Costa ships.
The itineraries for these first cruises, lasting from 4 to 7 days, include destinations in East Asia, in Japan, such as Sasebo, Kagoshima, Otaru, Hakodate, Naha, Miyakojima, and Ishigaki. Departures are scheduled from the ports of Busan, Sokcho, and Pohang in South Korea, and Keelung, Taiwan.
Carnival Corporation, Costa's parent company had said in late 2022 with the Chinese and Asian markets remaining closed, that it would be continuing to realign Costa's operations. The cruise line was able to restore its capacity to pre-pandemic levels in its markets outside Asia operating cruises in Europe, the Caribbean, and South America. In addition to selling one ship during the pause in operation, Costa delivered two other ships to Carnival's joint venture with China and transferred a cruise ship to Carnival Cruise Line. Two additional ships are scheduled to move to Carnival Cruise Line to start a new "Costa by Carnival" offering while Carnival Corporation said two additional ships would be sold from the Costa brand in 2023.
Costa Serena built by Fincantieri entered service in 2007. She has a capacity for 3,780 passengers and will be Costa's ninth cruise ship to return to service. The line had previously announced plans to restart the ship's cruises in December 2023 in the Caribbean for the winter season of 2023-2024.
International cruises from the Chinese mainland remain banned but starting in January Hong Kong also reopened for cruises along with Singapore, Malaysia, and Japan. Royal Caribbean International has also positioned its cruise ships back into the Asian market and Genting's Resorts World Cruises is now operating two cruise ships homeported in Asia. Other international brands have also begun to return to Asia and with China relaxing its COVID restrictions the anticipation is that more Chinese travelers will return to the market.

Top photo of Costa Serena in 2018 in Hakata, Japan - Saigen Jiro photo (CC0 1.0 license)