Costa Rica Drops Charges Against Sea Shepherd's Paul Watson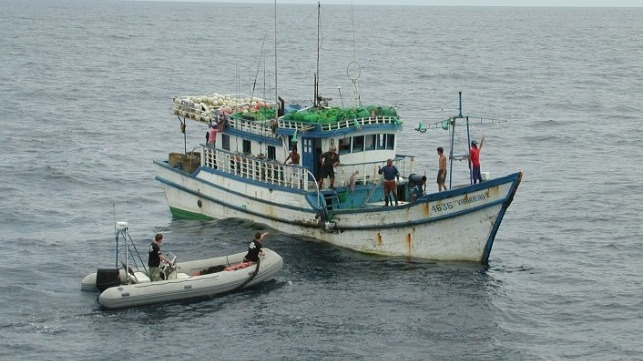 The Criminal Appeals Court of the Second Judicial Circuit of San José in Costa Rica ruled in favor of Captain Paul Watson, founder of the Sea Shepherd Conservation Society, dropping all charges against him and giving closure to a 17-year legal dispute and 13-year-old international arrest warrant.
The legal dispute began on April 20, 2002, when the vessel Ocean Warrior, under the command of Watson, was heading to Costa Rica. Sea Shepherd had been invited to sign a collaboration agreement for the protection of the world-renowned marine sanctuary, Cocos Island.
The year prior, Sea Shepherd provided the Cocos Island National Park Rangers with equipment and a ship to arrest and confiscate an Ecuadorian-flagged vessel, the San Jose, for illegally fishing in the protected area of the island.
In 2002, the Ocean Warrior encountered the Costa Rican vessel Varadero 1, whose crew, they asserted, were illegally finning sharks in Guatemalan territorial waters. After the Varadero 1 ignored several requests to cease the continuation of this practice, Watson received authorization from the Guatemalan naval authorities to escort the vessel to the nearest port for arrest. The incident was filmed and featured in the film Sharkwater by late Canadian director Rob Stewart.
Following the incident, the crew of the Varadero 1 filed several complaints against Watson. The case resulted in the arrest of Watson in Germany in May of 2012. The arrest was under a Costa Rican extradition request to Germany. Upon Watson's arrest, Japan also put in an extradition request. Germany made the decision to extradite Watson to Japan. Instead, Watson escaped Germany, going to Antarctica to oppose the Japanese whalers for a final year. A month after the escape, Germany requested Interpol to put a Red List notice on Watson for both Costa Rica and Japan.
Watson said: "Thanks to the determination and insistence of our legal defense team, this difficulty is now in the past. I want to thank the people of Costa Rica for their solidarity, the equanimity of their current government and especially the understanding and support of the Minister of the Environment, Carlos Manuel Rodríguez Echandi. Now it is time to look ahead and resume the conservation efforts that our organization and thousands of people make every day around the world to defend the environment.
"During all of these years, my sincere desire has always been to protect, together with Costa Rican people, the beautiful natural sanctuary that is the Isla del Coco, and other endangered areas linked to the Marine Corridor of the Eastern Tropical Pacific like the Golfo Dulce and the Osa Peninsula. I hope that, now, with this dismissal of these charges against me, we can make it a reality."