COSCO and DEME in Offshore Wind Deal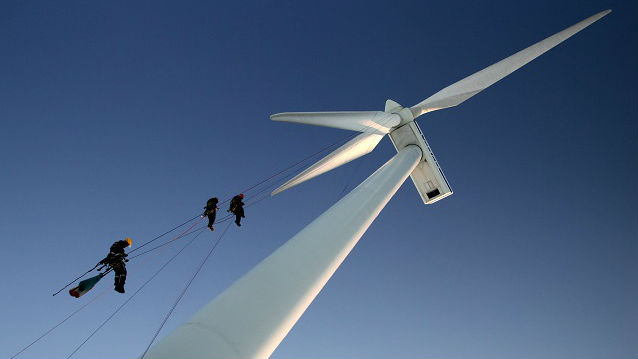 The Belgian dredging group DEME and China COSCO Shipping have formed a joint venture to develop offshore wind energy in China.
As the largest shipping company in the world, China COSCO Shipping says it wishes to enter this new market segment and has found a partner in DEME's subsidiary GeoSea, which has extensive experience in developing, building and maintaining offshore wind farms.
The cooperation is in line with China's climate vision as set out in its 13th Five-Year Plan (2016-2020) for social and economic development.
China currently lags behind its target to boost the country's offshore wind power capacity due to technical problems and high costs, which in the absence of more state subsidies could dent its plans to install 10 gigawatts (GW) by 2020, developers said earlier this year.
China is the world's top generator of electricity from wind turbines, with 145 GW of installed capacity, but most of this is onshore. The push to expand offshore has been driven by the fact that many of its major economic hubs are near the coast.
The country's first offshore project, the 102-megawatts (MW) Donghai Bridge Wind farm, was built eight years ago in Shanghai. Development has, however, slowed since then with a total capacity of only one GW being installed by 2015, versus a target of five GW, according to the Global Wind Energy Council.
Alain Bernard, Director and CEO of DEME, says the cooperation is in line with the group's partnering philosophy, in which DEME expands its international activities through sustainable cooperation with local partners. "Such combinations have repeatedly proven successful in DEME's dredging and environmental divisions," he says.
China COSCO Shipping specializes in shipping, logistics, wharf services, ship building and ship repair. The total fleet of China COSCO Shipping comprises 1114 vessels with a capacity of 85.32 million DWT, ranking No.1 in the world. Its container fleet capacity is 1.58 million TEU, ranking the fourth in the world. Its self-owned dry bulk fleet (365 vessels/33.52 million DWT), tanker fleet (120 vessels/17.85 million DWT), general cargo and specialized cargo fleet (three million DWT), are No.1 in the world in terms of capacity.
The Company owns over 46 container terminals all over the world, with over 190 berthing spaces. The throughput of its container terminals worldwide amounts to 90 million TEU, taking the second place in the world. The global sales volume of its ship bunker fuel exceeds 25 million tons, topping the world's list. The container leasing business scale surpasses 2.7 million TEU, which is the third-largest in the world; and its offshore engineering manufacturing competence and vessel agency business are also leading in the world.
China COSCO Shipping says its vision is to undertake the mission of globalizing the Chinese economy.