Container Ship Docks with 46-Foot Whale on Bow
A dead whale estimated to be 46 feet (14 meters) long was carried into New Zealand's Port of Tauranga on the bow of a Maersk container ship on Wednesday.
The local Department of Conservation (DOC) says the Bryde's whale was dead when the ship berthed. The death is viewed as an "unfortunate incident at sea," says DOC, and the carcass has been removed.
The 4,250 TEUs Lexa Maersk sailed from Brisbane, Australia, and it is not known where she encountered the whale.
There are no agreed population estimates for Bryde's whales in any ocean basin, but numbers are possibly in the tens of thousands worldwide. They are considered locally common in New Zealand waters, where they feed on schooling fish and krill. They reach 12-15 meters in length and a weight of 13-22 tons with females being larger than males.
It's not the first time Maersk has made headlines for having a dead whale carried in to port on one of its ships. In 2012, Maersk Line told Facebook followers that does everything it can to avoid creating a negative impact on the marine environment. "Despite these efforts on Wednesday 6 June we saw images of a 12 meter long whale caught on the bulbous bow of the Maersk Norwich. This image, of a noble and elegant creature accidentally struck down by a Maersk Line vessel deeply affected us all."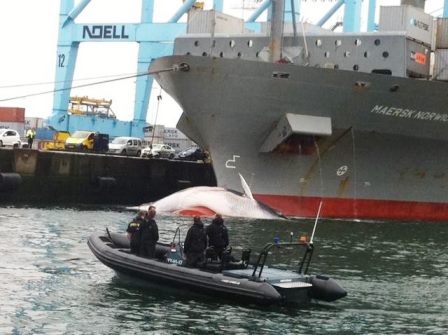 Maersk Line had strategy of turning negative stories, such as whale strike, into social media hits at the time, thanks to Jonathan Wichmann. He built the company's social media based on the idea that social media is about communicating, not marketing.
When Maersk Norwich arrived in Rotterdam Harbor with the carcass on her bow, Wichmann was advised to keep a low profile on the news, but he felt social media gave the company a chance to explain what happened instead of other people telling the story.
Wichmann put up a Q & A explaining how it had happened. "People didn't just call us whale killers," he said. "They said that they were sad too about the whale." The company launched a Pinterest tribute page In memory of the Maersk Norwich Whale.
There's no indication on social media yet that Maersk will do something similar for the Lexa Maersk Whale.