Container Fire Continues to Burn at Port of Iskenderun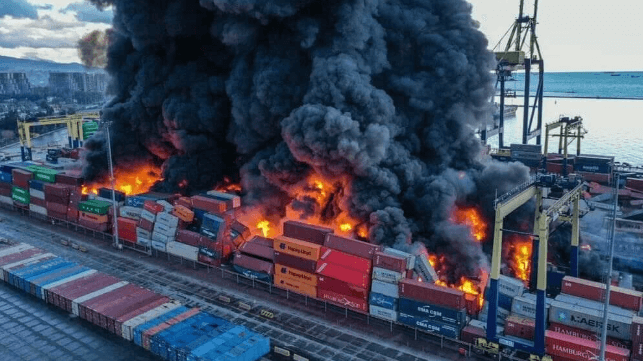 Despite reports that it has been extinguished, the container fire at the port of Iskenderun continues to burn into its second day, according to correspondents on the ground and Istanbul's municipal administration.
The fire in the port of #?skenderun is still not extinguished, Turkish media reported.

Major shipping companies began diverting containers going to this port to other locations. pic.twitter.com/S7gOAHOMLW

— NEXTA (@nexta_tv) February 7, 2023
The magnitude 7.8 earthquake that struck southern Turkey on Monday had a significant impact on the port, toppling stacks of containers and causing "severe structural damage." A fire started in the center of the container storage area on Monday evening and spread extensively overnight, despite military and civilian firefighting efforts. Turkey's coast guard deployed a vessel to apply water from the quayside, and the Turkish air force and army sent aircraft to drop fire retardant on the blaze.
?skenderun limak port pic.twitter.com/O4SPA3WLHV

— Bardaki Adam (@Cpt_Serdar) February 6, 2023
?skenderun Liman?nda meydana gelen yang?na, Kara Kuvvetlerimize ait helikopterler ve Hava Kuvvetlerimize ait uçak ile havadan müdahale edildi.#MSB #Deprem pic.twitter.com/369Z5DzvS9

— T.C. Millî Savunma Bakanl??? (@tcsavunma) February 7, 2023
The fire was extinguished on Tuesday, according to the Turkish defense ministry. However, reports from the scene indicate that it started again, and video footage on social media suggests that it spread to a large segment of the terminal's container storage stacks. Container fires are notoriously difficult to put out, since it is challenging to extinguish burning material inside boxes with widely differing (and occasionally hazardous) contents.
IMM's firefighting efforts continue at the Port of #Iskenderun. Our crews are working to contain the fire and prevent the risk of spillover. pic.twitter.com/lY91cJLGTv

— Istanbul Metropolitan Municipality (@municipalityist) February 7, 2023
Better footage from the Iskenderun port fire. The military put it out a few hours ago but apparently it started again pic.twitter.com/sAglDcwZOZ

— Rag?p Soylu (@ragipsoylu) February 7, 2023
As firefighting efforts continue, the large container carriers that serve Iskenderun have announced plans to divert vessels to other ports, like Mersin. Iskenderun is a busy destination for boxships, handling more than one million TEU annually.
"It's not yet known how long recovery efforts will take and when the port can undergo a full inspection of the damage," said number-two carrier Maersk in a statement.
Operations have also halted at the giant oil terminal at Ceyhan, which receives crude by pipeline from Iraq and Azerbaijan and loads it onto VLCCs for export. The pipelines have been shut down as a precautionary measure while inspections continue.
Though devastating, the damage and disruption at these ports is a small part of the unfolding disaster in southern Turkey. The death toll from the quake has risen to about 7,000 victims in Turkey and Syria as of Tuesday evening, and search and rescue operations continue in freezing winter weather.