Construction Starts on Port Canaveral's "Launch Pad"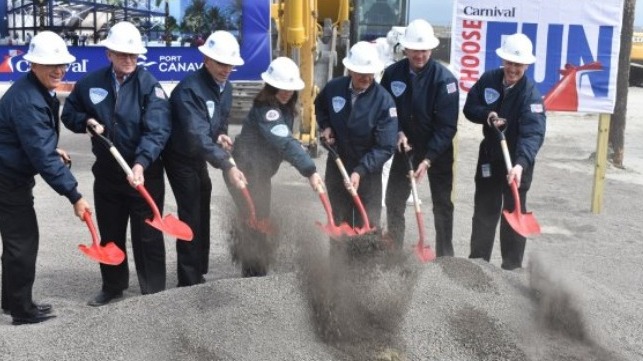 The Canaveral Port Authority and Carnival Cruise Line officially broke ground for construction of Port Canaveral's new Cruise Terminal 3 complex this week.
The new terminal, dubbed the Launch Pad, has a futuristic design inspired by the nearby Kennedy Space Center. The $163 million terminal project – the largest in the Port's 65-year history – is scheduled for completion in May 2020 and will be ready to homeport Mardi Gras, the cruise line's newest ship, in October 2020.
Carnival began operations from Port Canaveral nearly 30 years go – coincidentally with our original ship of the same name.
The contract to build the two-story, 187,000 square foot terminal facility and adjacent six-story parking garage was awarded to Merritt Island, Florida-based Ivey's Construction. The terminal will feature a baggage processing facility, check-in and security area on its second floor, with kiosks and seating for 1,700 guests. The six-story 692,000 square foot parking garage will accommodate 1,800 vehicles.

Construction of the cruise terminal's marine facility got underway last year with a contract awarded to Titusville, Florida-based contractor RUSH Marine to remove the existing pier structures at the site and build a new 1,309-foot-long berth for Mardi Gras. Substantial completion of the project is scheduled for December 2019.
Mardi Gras, currently under construction at Meyer Turku, will be powered by LNG, the first cruise ship in North America to be powered by this fuel.
Carnival named its newest cruise ship after its first cruise ship. The original 27,000-ton Mardi Gras, a converted trans-Atlantic liner, entered service in 1972 and popularized cruise vacations in the United States, helping Carnival become the largest cruise company in the world today. In March 1991, the 1,241-guest Mardi Gras became one of the first Carnival ships to homeport at Port Canaveral, where she offered three- and four-day cruises to the Bahamas until she and sister ship Carnivale were replaced by the Carnival Fantasy in October 1993.