Construction Begins on Pasha's First New Jones Act Container Ship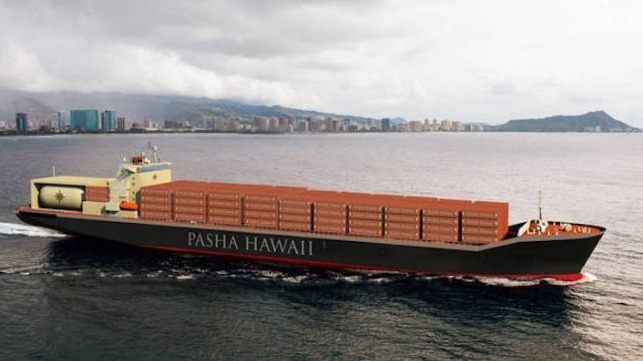 Jones Act carrier Pasha Hawaii announced Tuesday that construction has begun for the first of two new LNG-fueled container ships for the U.S. West Coast - Hawaii trade.
Steel-cutting for the future boxship George III began Tuesday at the Keppel AmFELS yard in Brownsville, Texas. The yard's president told local media that she will be the first deep draft vessel built in Texas in recent memory. (One important note: Orange, Texas was a major shipbuilding hub for deep draft vessels during World War II, and yards there still produce large vessels for the coastwise and offshore trades.)
The two new sub-Panamax ships for Pasha, valued at a contract price of about $200 million each, will have a capacity of about 2,500 TEU. They will be among the most hydrodynamically efficient hulls in the world, according to Pasha, thanks to optimization with computational fluid dynamics. Delivery is expected in 2020, and the contract contains an option for two additional ships.
"Three generations of our family's vision exemplify our unwavering commitment to serving our customers and investing in the future of Hawaii," said Pasha's president and CEO, George Pasha, IV. "We are marking the first production milestone of our new LNG ships, and honor the legacy of the Pasha 'ohana. We also commend the remarkable talents and organization of the highly skilled shipbuilders on the Keppel team who are working hard to transform these steel plates into the most environmentally efficient vessels for the Hawaii trade."
The construction of the new vessel class will create about 700 new jobs in the Brownsville area. Keppel AmFELS says that it has begun recruiting for the project, and it is sourcing all of its new hires locally.