Coast Guard Issues Hurricane Watch for Hawaiian Ports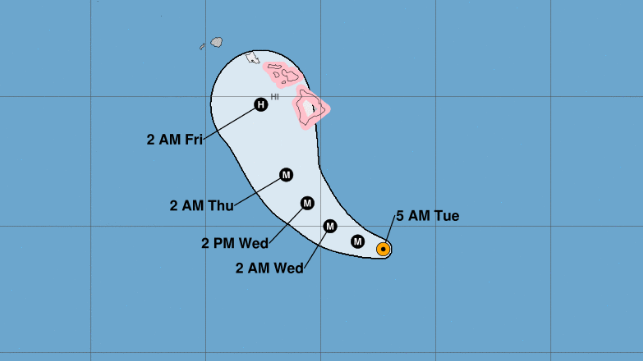 The Coast Guard has issued a storm watch for Hawaii's seaports in expectation of the arrival of Hurricane Lane, which is expected to turn and advance towards the Hawaiian Islands later this week.
Port Condition X-Ray is in effect for ports on the island of Hawaii, including Hilo Harbor. This Coast Guard designation means that winds above 39 mph are expected within 48 hours.
Port Condition Whiskey is in effect for ports in Oahu, including Honolulu Harbor and Barber's Point Harbor, and for ports on Maui, Lanai, Molokai and Kauai. This designation means that winds above 39 mph are expected within 72 hours.
The designation requires pleasure craft to seek sheltered waters, and all ocean-going vessels over 200 gt are required to make preparations to leave port in advance of Port Condition Zulu, which will be set when high winds are expected within 12 hours.
The Coast Guard said that there will be reduced vessel traffic within the affected ports, limited transportation of bulk oil and hazardous material within the ports, and shore-side facilities must begin to make preparations for heavy weather. Coast Guard personnel are inspecting port facilities for preparedness.
Hurricane Lane is currently located about 330 nm southeast of Hawaii's Big Island. According to the National Hurricane Center, Lane will begin to turn to the northwest on Wednesday and Thursday. Its track after the turn becomes more uncertain, and the NHC said that "it is much too early to confidently determine which, if any, of the main Hawaiian Islands will be directly impacted." The current long-term forecast shows the center of the hurricane passing about 60 nm to the west of the island chain on a curving path, with winds in the range of 65-85 knots.
Hurricane Lane as seen from space (NOAA / CIMSS)