Coast Guard Hurricane Response Continues in North Carolina
The U.S. Coast Guard and other branches of the armed forces have been conducting a round-the-clock rescue and response operation in North Carolina since Hurricane Florence's arrival last Friday.
Coast Guard helicopter crews redeployed from around the region in preparation for the storm, and are currently operating out of Elizabeth City and Savannah, Georgia. These aircrews have rescued more than 400 people and 200 pets in North Carolina since the hurricane landed.
In addition, the service's shallow water response teams are clearing roads in hard-hit Samson, Cumberland, Columbus and Lenoir counties in order to create access for emergency crews. As of Monday there were more than 3,000 Coast Guard members responding to Hurricane Florence, including 35 shallow-water boat teams.
The state's maritime operations are still largely shuttered. The ports of Wilmington and Morehead City, North Carolina and Georgetown, South Carolina all remain closed, with all port operations suspended. Seven buoy tenders have been dispatched to North Carolina to survey and open the ports of Wilmington and Morehead City and to help restore service for the North Carolina ferry system. The ports of Charleston, South Carolina and Hampton Roads, Virginia, have been reopened, but mariners are encouraged to use extreme caution.
Coast Guard helicopter aircrews assigned to the SAR mission for Georgia and South Carolina are now being redeployed to North Carolina instead. They completed a survey of these two states' coastlines without finding anyone in need of assistance.
Navy returns to Norfolk
Meanwhile, the majority of vessels stationed at Naval Station Norfolk have been ordered back to port after weathering the storm at sea. The amphib USS Kearsarge is positioned off the Mid-Atlantic coast so that her embarked helicopter and V-22 Osprey aircrews can support the relief effort.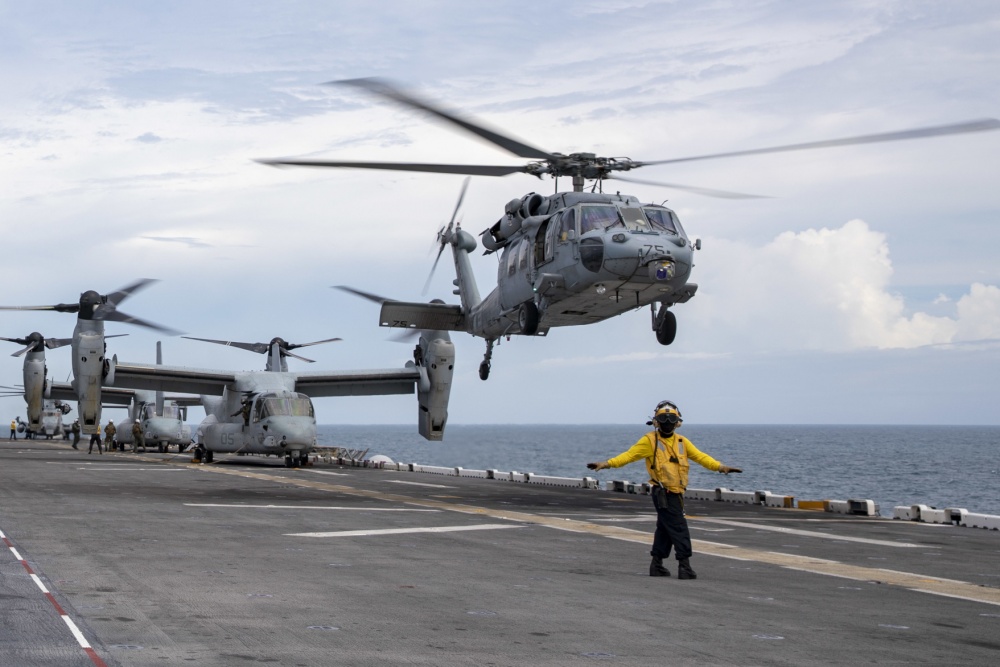 Helicopter takes off from USS Kearsarge to conduct a damage assessment survey, September 16 (USN)
The small-boat volunteer group known as the Cajun Navy has also deployed to assist the relief effort in the Carolinas, as it has in Texas and Louisiana in years past. The loosely-organized association says that it has completed hundreds of rescues since the storm's arrival. "We're pretty proud of what we've done. We're not happy that we have to be in some of these circumstances, but we're glad that we're able to help," said Todd Terrell, president of the Lousiana-based branch United Cajun Navy, speaking to CNN.
While the worst of the storm's high winds have passed, Florence is expected to continue delivering plenty of rain, and flooding will likely continue for days.