Coast Guard Aircrew Reports Near-Miss with Drone Aircraft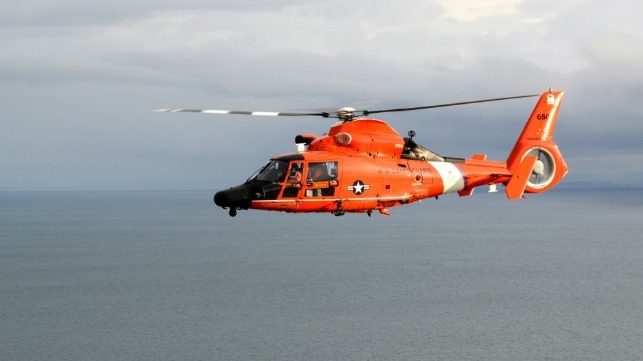 On Saturday, a U.S. Coast Guard helicopter aircrew narrowly avoided a collision with a small drone during a low-level training flight near Port Angeles, Washington.
The MH-65 Dolphin helicopter crew was conducting training near Fairchild International Airport when the crew maneuvered to miss what they thought was a bird. The object turned out to be a recreational drone, and the aircrew estimated the near miss at only 50 feet.
Fairchild International Airport's manager confirmed that this drone had not been authorized to fly within a five-mile radius, as is required by the Federal Aviation Administration. Drone operators must provide advanced notification to airports or airport traffic control to fly drones within five miles of an airport. Operators must yield right of way to manned aircraft and keep their drones in line of site at all times.
"Drone operators who are unaware or complacent of existing FAA regulations pose a significant safety threat to aircrews and risk serious damage to the aircraft," said Lt. Cmdr. Brent Schmadeke, operations officer at Air Station/Sector Field Office Port Angeles. "With the increasing popularity of commercial model aircraft, we strongly encourage operators to familiarize themselves with operating standards set forth by the FAA."
Bard College's Center for the Study of the Drone has analyzed FAA data to determine the frequency of unmanned-aircraft close encounters in the United States, and its work suggests that an encounter within 50 feet is reported about five times a month. An encounter requiring evasive action is reported to the FAA about twice a month (based on 2016 data).
The drone incident was not the Port Angeles air station's first run-in with irresponsible forms of recreation. In 2016, a Coast Guard helicopter aircrew based at Port Angeles was grounded for a medical checkup after an unidentified person aimed a powerful green laser at their aircraft. The crew landed safely but were grounded for two hours while they underwent a medical checkup.
Cmdr. Mark Hiigel, commanding officer of the air station, stressed that the laser strike was a serious incident – and potentially a hazard to shipping. "We need the general public to understand that the dangers of playing with green laser lights goes beyond medical risks to our aircrews, it places all mariners at risk due to delayed response times should they become in distress," Cmdr. Hiigel said.