CMA CGM Benjamin Franklin to Make Regular Calls in U.S.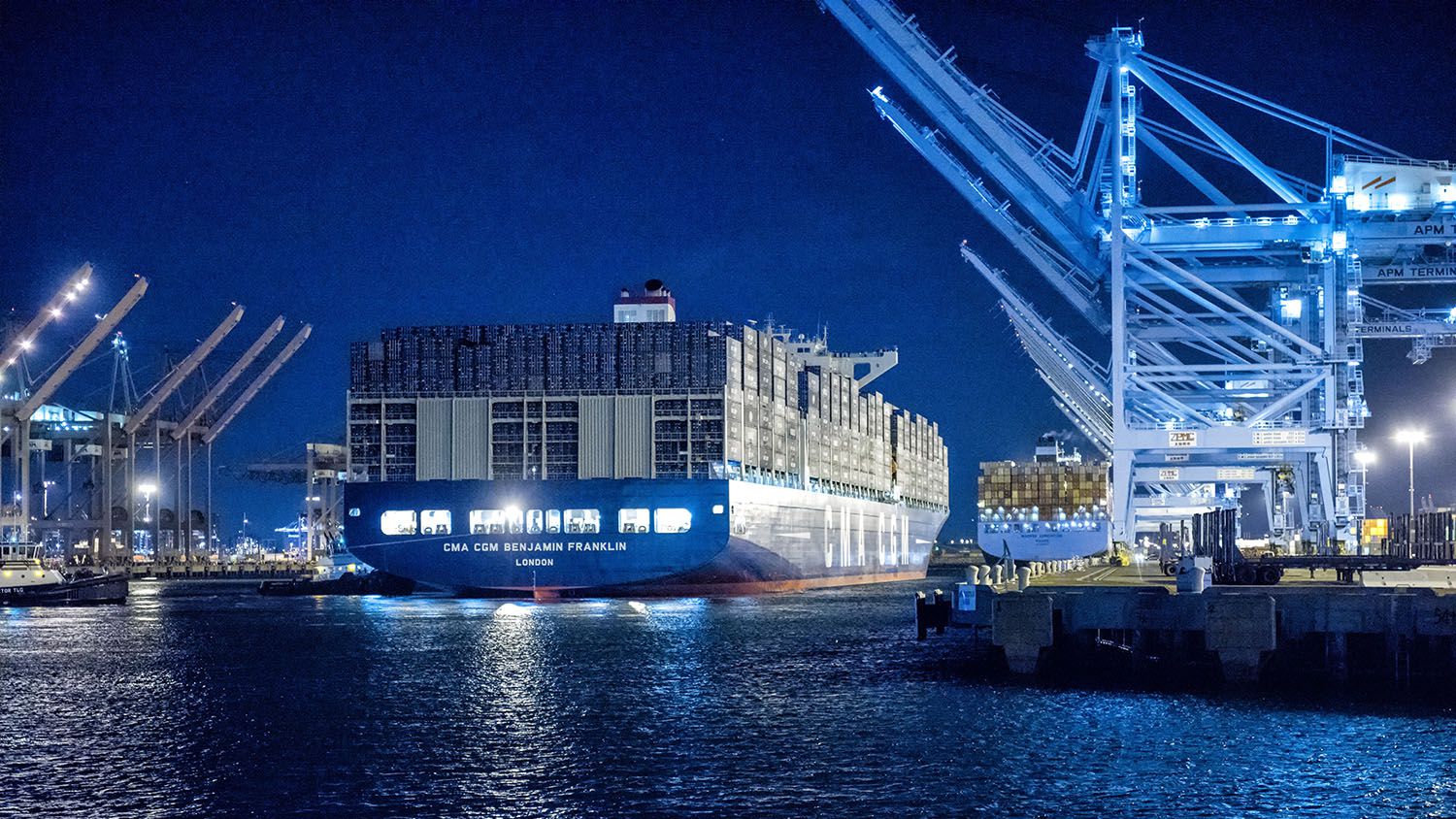 CMA CGM announced Friday that following recent successful trial visits to several American ports, it will divert all six of its 18,000 TEU flagship vessels from their European route to replace smaller container ships on the firm's Asia-to-U.S. West Coast run.
The announcement is a rapid reversal for the line. As recently as Monday, CMA CGM Americas chief operating officer Ed McCarthy had told media that the CMA CGM Benjamin Franklin, one of the six, would "go back into Europe-Asia trade" following her recent West Coast port calls.
With the change, CMA CGM's "Pearl River Express" service will be gaining the vessels CMA CGM Bougainville, Kerguelen, Georg Forster, Vasco de Gama, Zheng He and Benjamin Franklin. The latter vessel has already made high-profile calls at the ports of Oakland, Los Angeles, and Seattle to test facility capacity and determine where infrastructure investments will be needed.
The new ships will have about sixty percent more capacity than the vessels they will displace – the 11,000 TEU Centaurus, Columba, Gemini, Libra, Lyra and Thalassa – and will be the largest container ships ever to call at American ports.
The Pearl River Express route connects Fuqing, Xiamen, Nansha, Hong Kong, and Yantian with Long Beach and Oakland. Notably, CMA CGM did not include the Port of Seattle in its announcement. Seattle - one half of the Northwest Seaport Alliance, with Tacoma - would like to attract the mega-ships, but Alliance CEO John Wolfe recently said that berthing the ultra-large vessels would require as much as $800 million in port improvements.
The redeployment is likely a response to ever-declining freight rates and persistent underutilization on European and Mediterranean runs from Asia. Rates on these routes are down by more than half since the start of the year – and competitor Maersk is reportedly dropping prices even more, with offers under $200 per TEU.
CMA CGM has been increasing its Pacific presence in other ways; the line recently bought Neptune Orient Lines, the owner of APL, which has a strong core business of container service to the Americas and owns a container terminal in Los Angeles.
CMA CGM is also reportedly in talks with a number of potential partners, including the newly formed COSCOCS, for the creation of a new shipping alliance – a possibility that could have major repercussions for the Asia-Pacific and Asia-Europe trades.